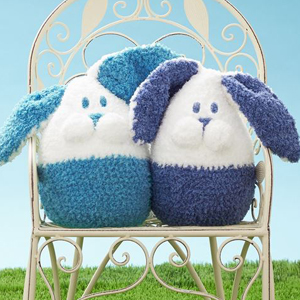 Crochet Easter Bunny Holiday Ideas and Patterns
The Easter Bunny is on its way! I have gathered up 34 egg-citing patterns! From easy bunny hops to Jumpin' Jack Rabbit patterns to get you ready for Easter. Crochet yourself up some Bunnies, Chicks, Eggs, welcoming wreaths and more!
On the farm,  we would see the new growth!  It seemed as if the whole world was opening up to feel the warm sunshine!  Mom had a way of bringing life to just about everything she touched. A cake would be turned into a bunny, eggs hidden in crazy places, but oh, the egg coloring was the best.
With my own children, I set out to make Easter and other holidays fun and exciting. With my grandchildren,  I crochet up Amigurumi to fill baskets! Set the stage with these crocheted patterns!
Click the links and be Inspired! Create! and  Celebrate!
EASY – Easter Bunny Hops
Spring Bunny Coasters
Easy to Intermediate
Easter Lily Doll
Jumpin' Jack Rabbits!
Over the Top Paid Patterns (but worth it!)