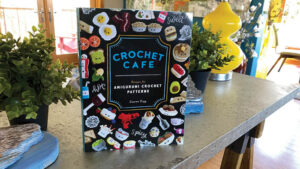 The Crochet Cafe: Recipes for Amigurumi Crochet Patterns by Lauren Espy is a book I picked up from Amazon. It came up as a top suggestion when I was purchasing some shoes on Amazon.
The entire book resembles a recipe book because the main focus is food amigurumi. I don't know if you realize but food-based items like this, including farmer's market types of projects, are in strong trend at this time.
I am so beyond impressed with the level of detail and step-by-step photography and the patterns are in standard amigurumi format which makes it easy to follow. From an English muffin with egg, ham and cheese to a picnic day with hotdogs with condiments.
The stitchwork has texture and a really excellent 3D approach where the project is believable, all the way around it. There is so many examples of food in this book generous book and I felt the price was bang on, maybe even a little too cheap for what is offered.
From breakfast, lunch, snacks, dinner and desserts, these are all high in fibre but calorie-free (wink wink). From child-play to decor items for you to enjoy.
I think you would seriously love this book. From the stack of pancakes with a splash of syrup! It's inspirational and best yet if you purchase it, you are supporting this designer's creativity as it seems she has a lot of ideas and brave enough to publish a fabulous book to boot!
Search for this online for purchase or find it at your local book store. ISBN 978-1-944-51593-5.
More Ideas

The Crochet Crowd doesn't participate in paid affiliate links where commission sales are obtained if you purchase. The book review is based on my own purchase of curiosity and isn't a paid review so my opinion is not biased based on possible sales.
More Book Reviews