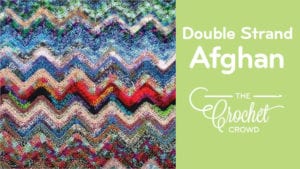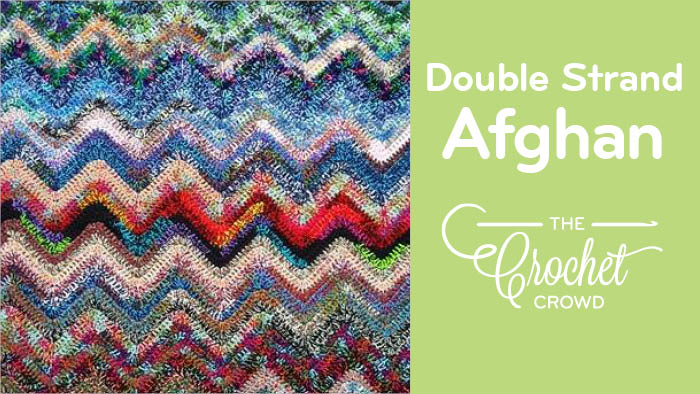 Crochet Double Strand Afghan
Hey, it's me... Yeppers, Laura Jean. I was charmed by Jeanne's story and her Sweet Memories Blanket, in which she uses double strands to create a beautiful chevron blanket.  Using random colours, and double stranding throughout you can really change the look by how you choose colours.
Choosing colours is fairly random - first of all, I chose to use a  paired with a solid or variegated colour in short, long and in-between lengths. There isn't really an exact science, and it is meant to use up scraps in a fun way.  To start I create some really lax guidelines. 1.  Throw caution to the wind and have fun!  2. Pick a pattern - this can easily be done in straight rows of double crochet.
I also choose to wind my yarn into cakes with a yarn winder, so I wasn't always starting and stopping. I did use the Russian join to join my yarn together.


The entire blanket is worked with 2 strands held together.
Hook size 8mm / L Hook.
This pattern is worked in multiples of 24 + 3 if you would like to change size. 
Each chevron is 10″ wide.
Pattern Suggestions
Instructions
With 2 strands Color A held together, chain 123.
Row 1 – 2 dc in 4th chain from hook, *dc in next 8 chains, [dc3tog in next 3 chains] twice, dc in next 8 chains, [3 dc in next chain] twice.  Repeat * to end, 3 dc into the last chain.  Turn.
Row 2 – Ch 3, 2 dc into the same stitch.  *dc into next 8 stitches, [dc3tog] twice, dc into next 8 stitches, [3 dc into next stitch] twice.  Repeat * to end, 3 dc into the last stitch.  Turn.
Continue Row 2 until the desired length.
I hope you enjoy this Random Afghan as much as I enjoyed making it and thank you, Jeanne, for a great blanket.
Tutorials for Wave Afghans
You can use these tutorials for starting your waves is you would like something different. Double strand your scrap yarns to provide a unique look and use up those partial balls.
More Afghan Pattern Ideas