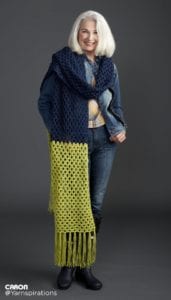 Crochet Granny Super Scarf
Introducing another Super Scarf called Granny Takes a Dip Scarf. A plunging scarf that drapes beautifully and uses most of everyone's favourite technique. Granny Style!
This scarf works in the back and forth in the width of the scarf and strategically changes colour for better accenting colours. The fringe, if you prefer it, is added on at the end.


More Scarf Ideas to Consider
Included in the video below are ways to wear this scarf.
Tutorial
More Scarf Patterns