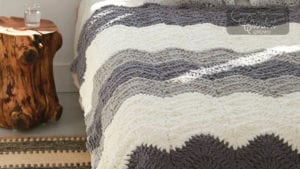 Crochet Grey Scale Blanket
Learn how to crochet a Crochet Grey Scale Blanket. Simply put, this is a chevron or ripple afghan that is easy as 1-2-3. There is a very simple rhythm to the pattern to make this easy to follow along.
The multiples for this stitch are 14+3.
In the tutorial provided below, I show you key signs on what to look for while making this afghan so you can keep on track and the stitches landing in the right spaces. I know from experience of crocheters who struggle with this concept that keeping a straight edge is a challenge. In this tutorial, a crochet diagram is available and, of course, I demonstrate what to do. I also cover how to change the colours so you don't have any pesky yarn tails.
Try this easy blanket.


Video Tutorial
More Afghan Pattern Ideas
1

2

3

4

5

6

7

8

9

10

11

12

13

14

15

16

17

18

19

20

21

22

23

24

25

26

27

28

29

30

31

32

33

34

35

36

37

38

39

40

41

42

43

44

45

46

47

48

49

50

51

52

53

54

55

56

57

58

59

60

61

62

63
Chevron Pattern Ideas