Crochet Love Is In The Air Patterns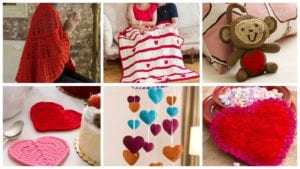 Love is in the air, for kids for your loved ones and most importantly for yourself. There is always a reason to celebrate the importance of love but Valentine's Day, which is fast approaching is a reminder to show your love and celebrate it with all those in your life that you care about. Hearts are a fun way to spread that love it's one of my favourite shapes next to stars!
This collection is all about the love for everyone young and old it's fun to create something to give reminding others just how much you care there are so many more options on Yarnspirations this is just a few to choose from a little bit of everything.
---
Crochet Have A Heart Shawl Pattern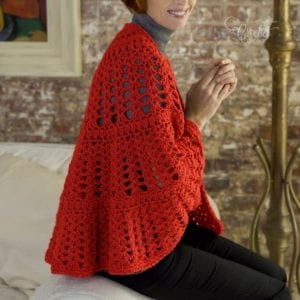 This really pretty shawl is perfect for someone in your life that is always cold in the office or gets chilly watching tv or an elderly loved one, who you just want to wrap up in a yarn hug. The  Crochet Have A Heart Shawl Pattern would make a beautiful gift for not only your self but someone you want to show you're thinking of them.
Designed by Joyce Nordstrom. Joyce designed this simple yet beautiful shawl using Red Heart Super Saver. I have not made myself a shawl in red but seeing this I don't know why not! I tend to stick to bright colours, but this works up so very lovely.  I may just have to branch out and try other colours. Or try this shawl in my bright colours, either way, I can't wait to try this shawl.

---
Crochet Valentine Scrubby Pattern
How cute is this Crochet Valentine Scrubby Pattern? A cute little accent piece in any kitchen make up a few of these in fin colours show those dishes how much you love to do them! These would also make a great craft show item especially if you have some happening this time of year.  I make my grandmother scrubby's every year, she loves getting them and manages to go through them no matter how many I give her. I think this year I will make her these something a little more fun than the rounds ones I normally make her.
Designed by Michele Wilcox she is such a creative designer I love her patterns. Michele made the Valentine Scrubby Pattern using the Red Heart Scrubby Yarn. You could easily use cotton yarn and use this as a dishcloth as well
You could also use this in the shower with your favourite body wash for a lovely exfoliating shower.

---
Crochet Flying Hearts Mobile Pattern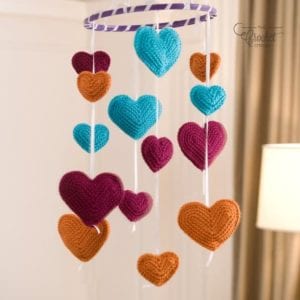 Is it wrong that a part of me wants to make a large version of this to hang over my bed? The Crochet Flying Hearts Mobile Pattern is so cute not only during Valentines but all year long. Make one for over your little one's bed so they can wake up every morning and be reminded every day of how much you love them. Decorate a reading corner or your crafting corner, if I thought my husband would put one up at work I would totally make one and make him put it up.
The Flying Hearts Mobile is Designed by Linda Cyr using Red Heart Soft Yarn, there are so many pretty colours and I love the sheen the yarn has this mobile will be so pretty play with the colours decorate every room you go in!
The Flying Hearts Mobile would also make a great baby shower gift, something a little different than the usual go-to blanket. My youngest was given a Butterfly mobile as a baby shower gift when I was pregnant with her, it still hangs above her bed she wouldn't let me take it down if I wanted to.

---
Crochet Be My Valentine Throw Pattern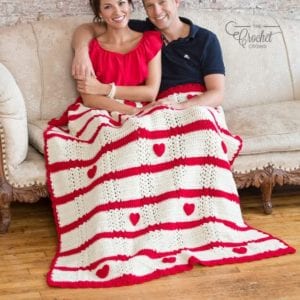 I love blankets they are wonderful to have around I have them all over the house so this Crochet Be My Valentine Throw Pattern is perfect on so many levels. The perfect cuddle blanket for movie night at home. The Be My Valentines Throw would make a lovely wedding gift for someone that you know is getting married, recently engaged or if you were in need of an anniversary gift and you were left wondering what to get or what to make this throw definitely says love is in the air!
This beautiful Crochet Be My Valentine Throw pattern is Designed by Roseanna Beck using Red Heart With Love which is a very soft and lovely yarn making this the perfect cuddle blanket. This Throw will make a lovely gift to your self or someone else you want to share your love and hard work with.

---
Crochet Love Monkey Pattern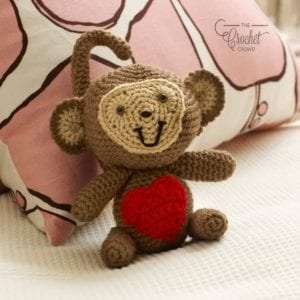 Young or young at heart share how much you care with this adorable Crochet Love Monkey Pattern. Make this little guy and give the Love Monkey this Valentine to those in your life that you care about a little token to show them that you're thinking of them and that you're banana's about them.
The Crochet Love Monkey Pattern is Designed by Kj Hay. Kj designed the little Love Monkey using Red Heart Super Saver. Make this monkey's little heart up in any of the many Super Saver colours add a little bow giving each one it's own little personality have fun with it
Last year I made up Heart pins for my middle child's classmates for Valentine's this year I may try to make these up for something a little different and fun.

---
Crochet Valentine Heart Coaster Pattern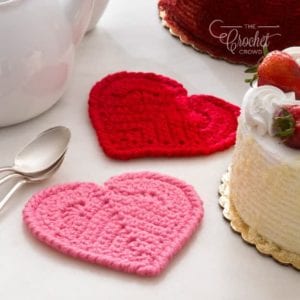 This Crochet Valentine Heart Coaster Pattern is not only practical but its fun. My friend Alicia has been making up some heart dishcloths a lot like these Valentine Heart Coaster for a craft show she has coming up, I got one and have been using it for a coaster and I love it. Normally I had a granny square that I used but my kids keep stealing it to use to wrap their freezies in. I use my coasters all this time I won't set my water bottle down unless there's one there, so this would make a wonderful gift for someone. You could do up some sets and sell them in craft shows, or have a set for your self. I plan on whipping up a few to have for myself and I guess to share with the rest of the family as well.
Designed by Andee Graves using Red Heart Super Saver. The Valentine Heart Coaster would also make a great yarn busting project for those leftover yarn ends from the last few projects in this collection. Happy Stitching!

Tutorial