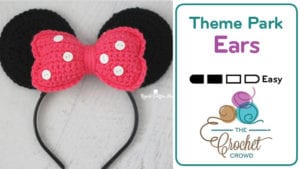 Crochet Minnie Mouse Ears
The Crochet Crowd visited Walt Disney World for our Once Upon A Stitch 3 Day Event. It happened at Magic Kingdom, Epcot and Animal Kingdom.
Along with JOANN Fabrics & Crafts, and the remarkable designer, Sarah of Repeat Crafter Me, we had a great time.
We had two projects, both designed by Sarah that were inspired by our favourite characters from Disney. She created this set of Crochet Minnie Mouse Ears.
The pattern is simple to follow with round circles stitched together with an oversized bow. Combined with six easy buttons that you can glue into position, or sew on. You can make your own set of Minnie Mouse Ears using your crochet hook.
Certainly at Disney, the ear hats are all the rage. I didn't realize there were so many options to choose from. So go to Disney in style or even have themed birthday parties at home. These were just awesome.


Pattern Suggestions
Repeat Crafter Me Pattern Ideas
Repeat Crafter Me" data-style="grid" data-row="1" data-layout="vertical" data-rtl="" data-fitrows="" data-filtercomb="" data-filterlogic="OR" data-filterload ="" data-sortbyload ="" data-orderload ="false" data-fullwidth="" data-fullheight="null" data-gutters="[[320,5],[480,5],[768,10],[980,10],[1200,10],[9999,10]]" data-slider='{"itemNav":"null","swingSpeed":0.1,"cycleBy":"null","cycle":5000,"startAt":1}' data-ratio="1.78" data-cols="[[320,1],[480,2],[768,2],[980,3],[1200,3],[9999,3]]" data-rows="[[320,200],[480,200],[768,220],[980,220],[1200,240],[9999,240]]" data-animation='{"name":"Fade in","visible":"","hidden":""}' data-transition="700ms" data-ajaxmethod="on_scroll" data-ajaxdelay="100" data-preloader="1" data-itemdelay="100" data-gallery="" data-ajax="">