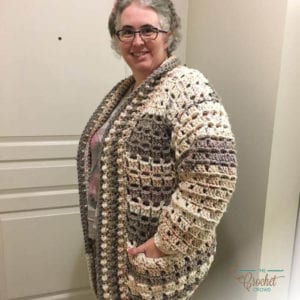 Crochet Modern Cardigan
Inspired by the Modern Granny designs by Jeanne Steinhilber, I have designed this amazingly warm and cozy Modern Granny Cardigan.  I used Caron Sprinkle Cakes as my yarn of choice, but you could also use Caron Tea Cakes. With the self striping yarn, it came out so beautifully, and with the super bulky weight, it is super cozy.  To also keep my hands warm, I have designed this cardigan with pockets.
The super bulky weight of this yarn allows quick results.  I made this cardigan in 4 days -- and I was writing the pattern down as I went!  Granted, I am a quick crocheter, but I think you will find that it will work up quickly for you too.  It may seem complicated, but there are a lot of repeats, so you may find it easier to do than you think!  The hardest parts are the pockets, and the decreases in the left/right front and the sleeves, but trust me, you can do it!
I can't wait to see your photos of your completed Modern Granny Cardigan.  I hope you enjoy it as much as I do!  Until you see me next time here on the Crochet Crowd, you can find me on Ravelry as The Crochet Ninja. 
Inspirational Gallery
Here is the Cardigan from different angles.
Guest Designer
Donna Bondy designs clothing just for fun and can be found under the Ravelry name of The Crochet Ninja. Donna is wearing her cardigan in the picture above.