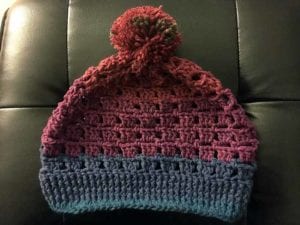 Crochet Modern Granny Hat #MG
Hook up my Modern Granny #MG Hat and be warm and trending!  I used less than half a cake of Caron Sprinkle Cakes for this hat, but it would look great with Caron Tea Cakes and Caron Chunky Cakes.
When I was scrolling through the fabulous pictures on The Crochet Crowd one day, I saw someone had posted a picture of their #MG scarf, and was asking if anyone knew a pattern for a hat that would go with it.  I thought to myself that we really need a #MG Hat to match the #MG scarf, so I sat down and designed one.
Now, before you ask, yes, this hat would look awesome with the original Caron Cakes and the Caron Big Cakes!  Because the Caron Sprinkle/Tea/Chunky Cakes are a 6 weight and the original Caron Cakes/Big Cakes are a 4 weight, the pattern would need to be tweaked to work with the different weight of yarn…so, I tweaked it and wrote it out for the Original and Big Caron Cakes.
But, as Jeanne reminded me, not everyone's head is the same size as mine 🙂 so I worked out the pattern for different sizes.  In fact, I have included the changes you would need to make to the pattern for sizes ranging from Toddler to Adult Large!
Chunky or regular…for yourself or for a child…so many choices!  And so many different colours from which to choose..betcha can't make just one!
I hope you enjoy this pattern as much as I did.  Until you see me next time here on The Crochet Crowd, you can find me on Ravelry as The Crochet Ninja.