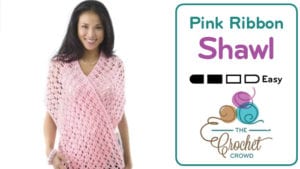 Crochet Pink Ribbon Shawl + Tutorial
Inspired by Cancer Awareness is the Pink Ribbon Shawl. The stitch work is fairly easy to remember. Once you get started, there are only 2 rows to remember. Once you get it into your head, you can crochet fairly quickly.
This uses Caron Simply Soft yarn. It drapes beautifully.
More Ideas to Consider
The shawl is made up of 2 parts. It's in two parts so the fancy frill edging fans out beautifully and is aligned with each other nicely. So you cannot see the middle of the shawl is behind her. However, it's not overly obvious of where it is. The shawl is about 60″ + in length.
Crossing the shawl over the front is most likely why it's called the Pink Ribbon Shawl. It's really fabulous overall.
Crochet Diagram
In the tutorial, I have shown a homemade crochet diagram that I used to follow the stitchwork. If you need this diagram or need extra help to visualize the pattern. You can Download the Crochet Diagram Here. Feel free to view it, save and/or print it.
You will see in the diagram that it's not a hard pattern.
Tutorial
More Charity Related Projects
More Shawl Pattern Ideas