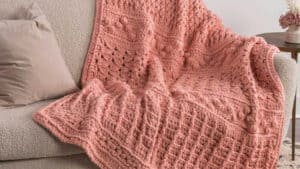 The Crochet Sparkle Texture Stitch Sampler Blanket is a sampler with several stitches to learn.
In this stitch sampler you will learn the following stitches:
Puff Stitch Clusters
Waffle Stitch
Half Double Crochet Horizontal Front and Back Bars
Zigzag Bobble Stitch
Diagonal Spikes Stitch
Wicker Stitch
Easy-to-follow fun blanket stitch sampler that will have eye-popping texture to enjoy. Using Bernat Blanket, this will crochet up really quickly.
Stitch Multiple
For the starting chain, the stitch multiple is 8 chs + 2. Please note that in sections where you need to eliminate 1 stitch, just do the 2 Together midway through the row as suggested. When you need to put the increase stitch back in, do it at the middle of the row.
Doing 8 Chains + 2 will allow the zigzag section to line up perfectly. The Stitch Multiple for the beginning section is only 4 chs + 3 but if you do that and the stitch multiple you do doesn't land perfectly, the zig zag will misalign.
More Ideas

Tutorial
More Afghans