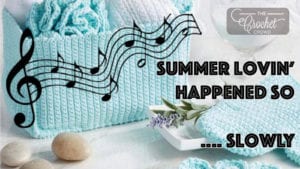 Crochet Summer Lovin' Newsletter
The Crochet Summer Lovin' Newsletter is ready for your crochet enjoyment. With practical and patriotic free crochet projects to love.
This is the first newsletter written by our local assistant, Devin. She was allowed free creative reign to present to you a newsletter in her own way.
Inspired by Grease, she is sharing the song and relating it to the project. It's pretty clever! So when you are reading the upper titles, put the song into your head.
More Ideas