6 Crochet Simple Shrug Patterns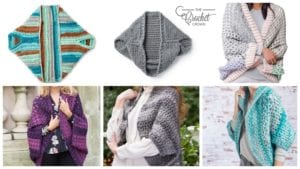 Shrugs are among one of the easiest patterns for clothing to make, especially if you are someone who is just starting with crochet, or making wearables that aren't a hat or scarf. I love them and have a few that I wear, as well as one of these that I'm working on myself.
Most shrug patterns are as simple as working up a square or rectangle to the size needed to fit you and seam arm-holes together to form the shrug, from there you can add the collar and sleeves. Not all patterns call for sleeves its more of a preference thing whether or not you choose to add them, I have on some but not all depends on personal preference.
Pattern Suggestions
---
Crochet Collared Cocoon Shrug Pattern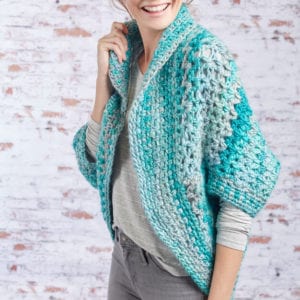 This Crochet Collared Cocoon Shrug Pattern made in a super bulky weight yarn is worked up using the V-stitch. The V-stitch is one of my favourites to use in a project, so easy to do but gives the pattern a lovely textured look. This Collared Shrug comes in quite a few size options from extra small to 5x and is very easy to adjust if you wanted to make it larger or smaller where it's just a simple square and you add the cuffs and collar after you have seamed the armholes.
This Crochet Collared Cocoon Shrug Pattern was designed by Rebecca Velasquez made using Red Heart Evermore. It's classed as an intermediate project but I've read over the pattern and It looks super easy, and the bonus is where it's in a super bulky weight it won't take very long to work up, you'll love this cozy shrug.


Crochet Cool Weather Shrug Pattern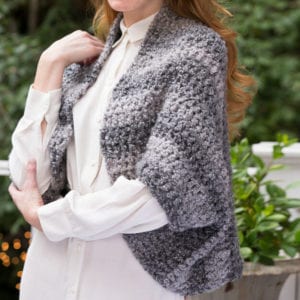 If you are looking for something quick, yet cozy and stylish work up this great little Crochet Cool Weather Shrug Pattern. It's an easy project that won't take long where it's done in super bulky weight. The pattern is written for sizes small to 3x but it is easy to make it larger or smaller. Great for throwing over a tank top on those chilly days.
This Crochet Cool Weather Shrug Pattern was worked up using Red Heart Stellar designed by Lorna Miser. These patterns can in all reality be worked up using any yarn as well as using multiple strands held together for a bulkier weight. Using multiple strands you can use different colours for a unique look combine solid or use variegated and a solid there are all kinds of possibilities when working up any of these shrugs.


Crochet Colossal Shrug Pattern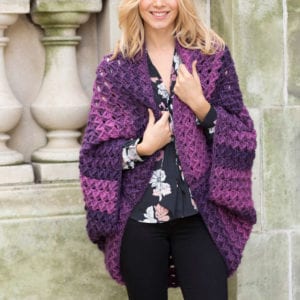 I love the look of this Crochet Colossal Shrug Pattern. the stitch gives the shrugs a very appealing texture. I love the oversized cozy drape look of this Colossal Shrug. The pattern is written for one size fits most. If you wanted it to work up a little smaller I would suggest a smaller weight yarn and a smaller hook, if you can figure out the repeat and adjust your changing.
This Colossal Shrug Pattern was designed by Tammy Hildebrand was made using Red Heart Boutique Infinity. This would look super cute over a white top, and a pair of leggings or Jeans. This is a great gift idea if you are working on Christmas or Birthday gifts, once you get done making one for your self of course.


Crochet Cocoon Shrug Pattern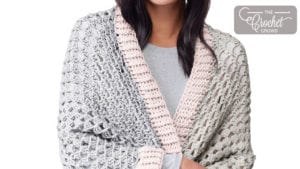 This Crochet Cocoon Shrug Pattern is a super easy one to wip up, it's 4 granny squares sewn together to get a larger square, then a collar and cuffs added. It's one that I have been working on for awhile it's not that it takes a long time to do, I just have a lot of projects that I work on at one time although I noticed today that most of them seem to be different forms of the granny blankets, shrugs tops, a baby blanket, safe to say I may be granny stitch obsessed…
This Crochet Cocoon Shrug was made using the Caron x Pantone which I don't think there is any out right now, you can use pretty much any yarn to work up this pattern, to get you to the smaller size square that you need.


Crochet Blanket Cardigan Pattern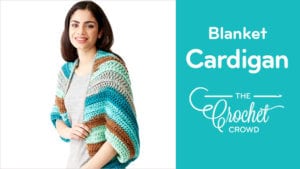 This super cute easy to make Crochet Blanket Cardigan Pattern made using Caron Chunky Cakes. This Blanket Cardigan is definitely added to my to-do list I love working with cakes.  It looks incredibly warm and cozy.  Perfect for a chilly day
This simple pattern uses the concept of a rectangle made from half double crochet into the horizontal bar.  It creates a nice looking texture in the shrug.  Here is a simple diagram to demonstrate: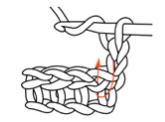 After it's done, it's a simple fold to create the arm-holes and you are ready to go.  It's a great beginner project to get started with crocheted clothing.


Crochet EZ Cardigan Pattern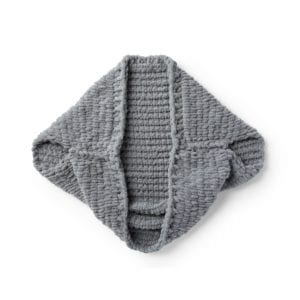 This Crochet EZ Cardigan Pattern was made using the Bernat Allize EZ, I haven't used that yarn myself yet, but this pattern has me want to give it a try. The pattern is written for sizes extra small to 5xl.
If you haven't tried this yarn you this great starter project to give it a whirl. Just looking at the photo alone it looks so soft and squishy!
If you work up this EZ Cardigan I would love to see photos of your finished work!


More Crochet Pattern Ideas
More Crochet Cardigan Pattern Ideas