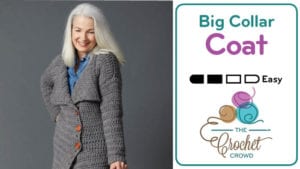 Crochet Big Collar Coat
The Crochet Big Collar Coat is available in sizes from XS - 5 XL. The pattern is free, of course!
The pattern is using Bernat Roving Yarn. It's a mix of 80% Acrylic with 20% Wool. The wool will provide warmth and be cozy to wear.
The pattern consists of a back panel, front two panels and sleeves. For casual wearing in climates that make sense.
Start stitching to be able to wear this starting this fall!


More Pattern Ideas
Tutorial
More Cardigan Pattern Ideas