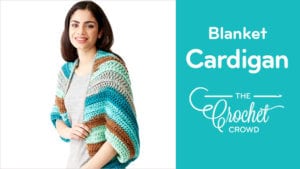 Crochet Blanket Cardigan
Caron Chunky Cakes is the hottest new yarn in the Cake family to hit Michaels.  This super cute easy to make Blanket Cardigan has just been released and has jumped right near the top of my personal to-do list!  It looks incredibly warm and cozy.  Perfect for a chilly winter day.
This simple pattern uses the concept of a rectangle made from half double crochet into the horizontal bar.  It really creates the next texture.  Here is a simple diagram to demonstrate: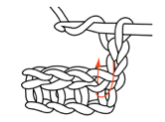 After it's done, it's a simple fold to create the armholes and you are ready to go.  It's a great beginner project to get started with crocheted clothing.
Mikey is undecided at this time on whether or not to film a tutorial.  Leave him a yay or a nay in the comments below if you'd like him to film this one.


Pattern Suggestions
More Cardigan Pattern Ideas