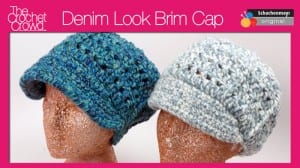 Denim Look Visor Caps
We have a Crochet Denim Look Visor Cap for women. This is a free pattern by Red Heart Yarns but the yarn was substituted for Schachenmayr Boston Yarn as seen in the photograph.
This pattern has some unusual start off stitches that frankly, surprised me! Never have I seen a hat jump from 8 DC's going around to the next round being 24 DC's around. I didn't think it would work and batta boom batta bing it did!


I would highly recommend this pattern to watch your gauge. Colleen, our assistant crocheter, is a tighter crocheter than I am. Her hat is on the right in the light blue denim. You can see her hat fits the mannequin head perfectly. The mannequin heads are not a regular human size head, they are a bit smaller. My hat doesn't fit the mannequin but then fit Colleen's head perfectly.
More Ideas
The brim does come down in front of the face and doesn't jet out forward. You might want to try on your hat as you crochet once you get near the rounds of 11 - 15 in the pattern. If the brim is already low on your forehead, the brim will more than likely cover your eyes.
In our versions using Boston Schachenmayr Yarns, typically found in independent retailers. We used 3 skeins total. It is a chunky weight yarn. If substituting, because this yarn is chunky and the original pattern is just a regular 4 ply worsted yarn. You will want to be mindful of your gauge. You can reduce your hook size to make your hats smaller when using chunky yarn.
Finally, Colleen and I didn't use a plastic insert for the brim itself. The yarn is already chunky and it was doubled up in the brim, as per the instructions. We were satisfied with how it looked, even without an insert. As Colleen said, it's hard to wash something with cardboard inside for a brim.
Follow The Tutorials (Right & Left Hand)
Join us for the month of interesting hats that are free.