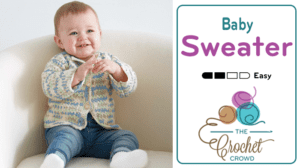 Easy Baby Cardigan
For those who can read simplistic patterns, this Easy Baby Cardigan had me gobsmacked with its simplicity.
I'm careful not to say everything is easy. Some in this industry love to say everything is 'easy' as the lure to get you to do it. I like having an opinion of expressing my feelings about a pattern.
This pattern shocked me on simplicity. If you know how to make rectangular panels, you can definitely do this sweater. If you look at the sweater as sections. 2 Front Panels, 2 Sleeves Panels and 1 Back Panel. You've got yourself a baby cardigan. Once you get your rectangle panels done, you sew them together to form the sweater! Batta Bing... Batta Boom!
The stitches used are the exact same as my beginner's baby blanket. Using SC and Ch 1! Just follow the hook size, yarn recommendation and chain counts on the pattern. The tutorial is showing you how to do this stitch that it's asking for. Once you get started, you will realize how quick this is to make.


Pattern Suggestions
More Baby Sweater Patterns