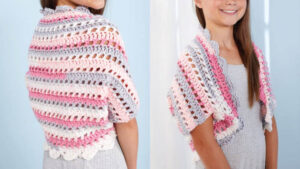 The Easy Girl's Crochet Shrug pattern is a rectangle that is folded and secured to form a shrug.
The sizing for this is approximately 8 years, 10 years, 12 years and 14 years old. Of course, all body types are different at this age. The measurements are provided in the pattern to make a good decision.
The yarn used is discontinued but I think there are plenty of current yarns where this pattern will work great.
More Ideas

Tutorial
Not at this time.
More Cardigans