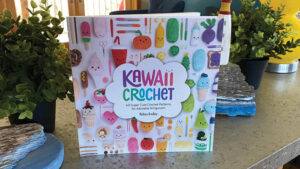 The Kawaii Crochet: 40 Patterns Amigurumi by Melissa Bradley focuses on cute farmer's market edibles to this most outrageous snack stand of idea pretzels, soda, tacos, condiments and popcorn.
Photography has me hooked, the ideas have me hungry for me. Say what... even a Bowl of Cheerios! Seriously!
Sweet treats including this most ever cute Carrot Cake to a heart that is bursting for love. I find the ideas overwhelming and giggling with delight as I turn the pages.
If you find yourself on a day with cloudy and partly showers (that's also in the book) to wanting a bowl of fruit loops or even some essentials like lemonade and watermelon popsicles. This incredible book is incredible! Truly.
Find this book on Amazon or a retailer near you. ISBN 13-9781446307533. It's worth it and ideas you can create will whomever you do this for have smiles.  Support this designer, Melissa Bradley by purchasing her book. The baby bottle is a cute nursery accessory, even for a wreath or something.
More Ideas
More Book Reviews