6 Snuggtasticly Cozy Crochet Patterns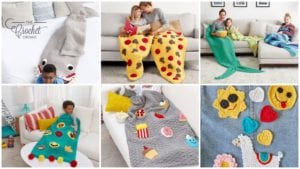 I don't know about your house, but I know that mine and pretty much anyone I've been in that has a child, they love having a blanket to snuggle with when they're watching something really good on tv. Not going to lie I tend to do it my self, and the most annoying thing is when ya just can't get it positioned just right your feet end up sticking out, it's annoying…
Snuggly sacks are a great snuggtasticly cozy solution to the tv watching without you ending up with your feet poking out from the bottom of your blanket anymore! Not to mention there are some super cute patterns for snuggle sacks that can be made.
---
Fin-tastic Shark Snuggle Sack Crochet Pattern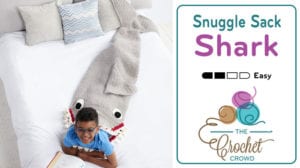 There are a lot of kids young and old that at some point has had a bit of love for all things sea, I never really outgrew it. This Fin-tastic Shark Snuggle Sack Crochet Pattern is a super fun snuggle sack for the shark lover in your home.
A lot of the snuggle sacks are made with the Bernat Blanket, which makes them so soft and squishy, it's almost like what it would feel like to be a teddy bear when you snuggle inside one.


Mermaid Crochet Snuggle Sack Pattern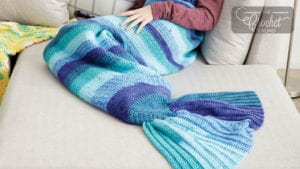 Mermaid tails are one of the most popular snuggle sacks that I have seen by far, in any form, be it material or crochet. It is a very popular style by far. I mean who didn't like to pretend to be a mermaid at the beach no shame if you still do
Although there is a Crochet Mermaid Tail Pattern that is made in the Bernat Blanket yarn like most snuggle sacks, the pattern in this blog, the Crochet Mermaid Tail Snuggle Sack Pattern is not made with the Blanket, not to say you couldn't if you chose to use that instead, just remember to just your hook, but this one was made in the Bernat pop, there are some really fun colours you could play with to make this pattern.


Pizza Party Crochet Snuggle Sack Pattern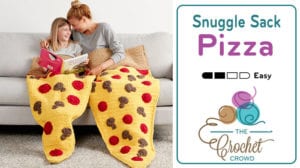 Who doesn't love pizza, it is the food of all foods. This Crochet Pizza Snuggle Sack Pattern has been designed for both Child and Adult Sizes. So everyone can have their slice to wear
The Pizza Snuggle Sack is crochet from the bottom up to the top like a lot of shawls just not the same increases. The sauce and crust are crocheted with the sack. The back of the pattern is in crust colour like the front top part to keep it a little more realistic.


Emoji Crochet Snuggle Sack Pattern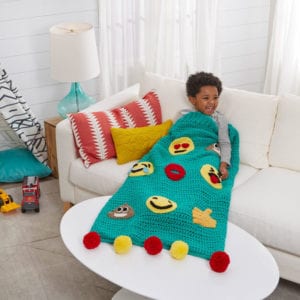 If you are looking for something a little more on the basic side, something that you can personalize a little more. Make up the included appliques or use different ones that you have found that you like more with the next couple patterns they are some easy simple sacks, that you can make a little more personal.
Make this snuggle pattern designed by Nancy Anderson in your favourite colours sew on some patches or you can make up any of the many appliques you can find online, Yarnspirations has a few with their blanket patterns that you can easily make and put on this snuggle sack ones you would like to put on the Emoji Snuggle Sack or keep the ones included in the pattern, there are so many options, it's a wonderful thing having the talent that we do, there are always so many options available at our fingertips!


Crochet Snuggle Sack Pattern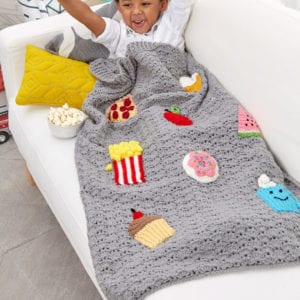 Who doesn't love snacks, especially these days, am I right?! This pattern is a great little snuggle sack, sporting some of your favourite snacks who wouldn't love getting cozy in this Snack Crochet Snuggle Sack Pattern. This snuggle sack is another good one to use if you wanted to make this sack, but change up the applique's that you put on it. Another easily adaptable pattern.
This Snack Crochet Snuggle Sack was designed by Michele Wilcox made with Red Heart Super Saver, but if you wanted to make it in the Bernat Blanket you could just adjust your hook size especially if you are like me and are a tight crocheter. If you wanted it thicker than using just the 4ply yarn, and you don't have Bernat at home right now, Use 2 strands together to get the same thickness, and you can have more fun with colours mixing them. You can end up with some amazing combinations this way.


No Problem-ma Llama Applique Pattern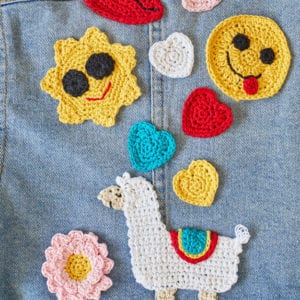 So many people did an amazing job making the Llama-No-Drama Pattern so I thought how perfect is this  No Problem-ma Llama Applique Pattern. If you have made one of the Llama's up for your little one, working up to one of the last two snuggle sack patterns, try making up a couple of these llama appliques and add those to the sack instead to match the stuffie. They will have a unique and adorable little set. There's a lot of little llama lovers out there that would be pretty excited about this.
The No Problem-ma Llama Applique was designed by Michele Wilcox she made it using Aunt Lydia's Classic Thread, but I would suggest using a worsted weight if you were looking to put it on the snuggle sack, it would work up a little bigger and fit the sack a little better.


Pattern Suggestions
More Snuggle Sacks to Consider