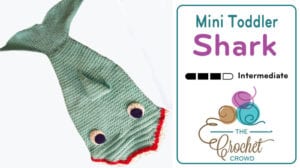 Crochet Mini Toddler Shark Snuggle Sack
Many people have requested a smaller version of the latest Fin-Tastic Shark Snuggle Sack by Yarnspirations.com.
Jennie Renshaw of Missouri, USA saw a need and fulfilled a need by doing an adaptation of the Yarnspirations.com Shark for her 3 year old grandson, Chase.


Jennie figured out how to make the shark turn from 53″ down to 38″ for her grandson.
The original shark is for about 5 – 12 year old children and she really loved the concept but didn't want to make it as large. So she adapted the pattern. Just as a side note, her adaptation doesn't make it a brand new pattern or for her to be the designer of this pattern. It just means she tweaked it a bit and is sharing that information with us.
The original size of this shark is 45″ long in the sack without the tail. The tail is 8″ additional making the whole shark being 53″ long. Jennie's version is 30″ long in the sack without the tail. Her tails it the pattern instructions making her shark 38″ long.
Yarn Requirements
Follow the original yarn requirements for colour. You will use 2 and a little bit of a 3rd ball of Bernat Blanket Light Gray instead of 4 balls.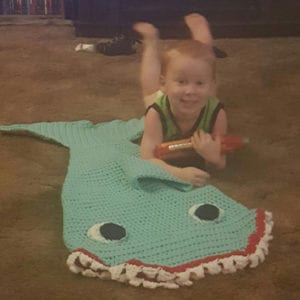 What hasn't changed in Jennie's Pattern are the following:
Starting circumference is the same.
Fin, tail, teeth, eyes, gums and jaw are the same.
Jennie has changed the length by subtracting out growth distances.
Changes Made
Just print out the pattern by going to the "GET PATTERN" Button at the top of this article. Just note the two simple changes below and you will have a toddler size crochet shark snuggle sack.
Main Body
Crochet a distance of 12″. Not 24″
Tail Shaping
In each section of the tail. There was a set of instructions for a decrease round and then after it is an additional 5 rounds of just regular half double crochet around.
Jennie reduced from 5 half double crochet rounds and only did 3. So she is essentially subtracting 2 rounds per section of each time it was requested. This made the tail much shorter and still kept the accurate counts.
That's it. Her changes were all in the body and body shaping. Everything else remained the same.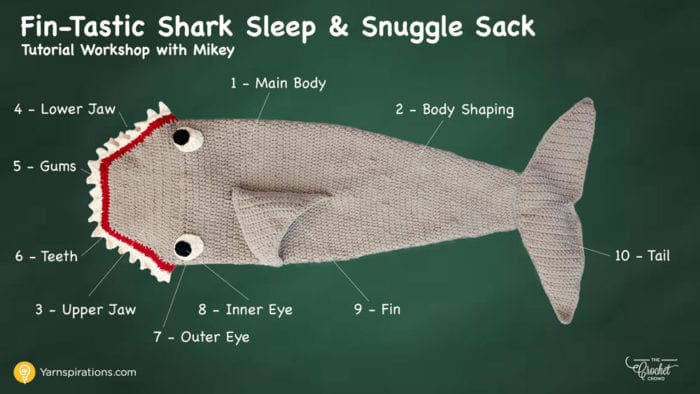 Video Tutorial
Please note the video tutorial is for the original sizes, the notes above are the changes of the pattern to decrease the shark for toddler sizes. When following along, just make note of the changes above to do within this pattern.
More Snuggle Sack Ideas