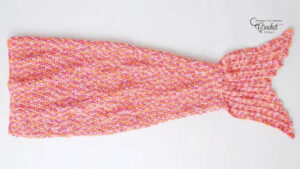 The Crochet Adult Mermaid Tail is 60" long without fins and 60" circumference for adults. Using Bernat Blanket yarn.
This is an adaptation from Yarnspirations child-size version which I will provide below as well. The math is figured out for the sizing changes. I am guessing the yarn balls needed to be 6 or 7 balls instead of 4 like the child version.
The tail is made exactly the same. The only thing I changed was to make the sack itself longer and bigger in circumference before narrowing down to the fin.
The Child Size Mermaid Tail is easy to follow the pattern as well.
More Ideas


Tutorial
This is showing the child-size version. The difference is that you will start with chain 106. You will make the top section 26" long and then begin the decrease. Once you get to the 80 sts, the next decreases follow the video to the tail. I won't be filming an exclusive adult size tutorial.
More Snuggle Sacks