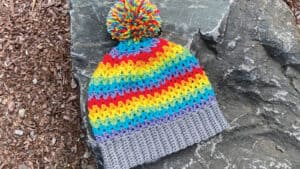 The Crochet Let's Stripe Hat is a pretty easy pattern and excellent for charity and gift-giving.
Start with crocheting the brim for the texture and then proceed into the body of the hat. The body of the hat naturally turns inward to shape your crown.
Top off with a Pom Pom with a bowtie if you wish.
Colours in my picture are as follows but note I used scrap yarn from Caron Simply Soft leftover that I believe may be discontinued.
Gray Heather
Purple
Aqua
Limelight
Super Duper Yellow
Mango
Red
More Ideas

Tutorial
More Days of Hats Series