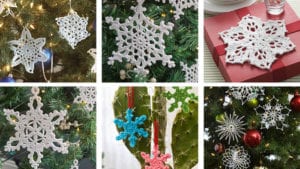 What's Happening Around Here
As Christmas is quickly approaching. I am seeing stress levels of crocheters starting to rise. I'm not sure why we do this to ourselves with having bigger thoughts than we may be capable of. Trust me though, I get self-pressure all too well.
24 Days of Quickies
Jeanne and I have wrapped our resources this week for Marly Bird's 24 Quickies. Every day until the 24th, you will be getting to see at least 1 new pattern.


Some designers, it's a paid pattern.
Other designers are a free pattern. No strings attached, pardon the pun.
Other designers have opted for a free pattern for a limited time frame and then it will have a charge associated with it.
There are 24 different designers from both crochet and knitting perspectives. So how they are giving out their patterns usually matches their own platform style.
The Crochet Crowd Patterns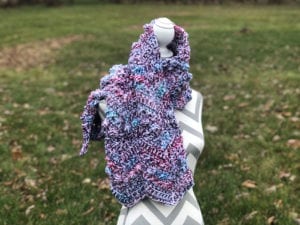 Jeanne Steinhilber
Both Jeanne and my patterns will be free at any time. So there's no fee associated with our designs or downloading our patterns, which is normal for our website.
Jeanne applied her Hugs & Kisses pattern concept. See many designs she has in the Hugs & Kisses Gallery of Ideas. Scheduled for roll out on Dec 13th, 2019.
For her version this time, she played with changing the stitching counts but also marled up the yarn. Essentially, putting two yarns together at the same time. She put together Bernat Super Value and Red Heart Roll With It Melange.
For my part, Jeanne wanted a tutorial filmed for the new stitch counting. So last night and again this morning, I am running tutorial homework to double-check her design.
I switched my hook to a 5 mm / H Hook. I used Red Heart Colorscapes. Colour shown is Mykonos. I think it would take 2 – 3 balls if you wanted to use Colorscape instead.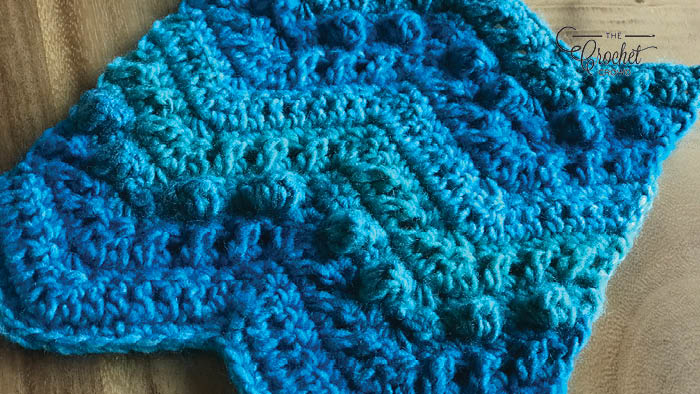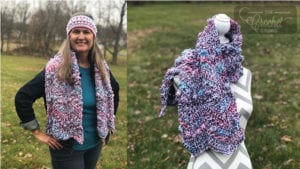 Jeanne's new scarf version goes with her latest Hugs & Kisses Version of the Hugs & Kisses Head Band.


She is using the same colourway in the headband as shown to the right to match the texture pleasing scarf. If you want to get started on the headband now, you can have it done by the time the new scarf pattern comes out.
Jeanne crochets her own stunts and is really prolific. Jeanne has designed so many great free patterns. You can enjoy a glance through her designs here.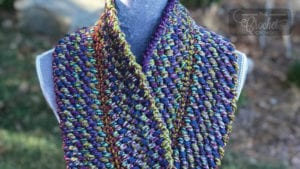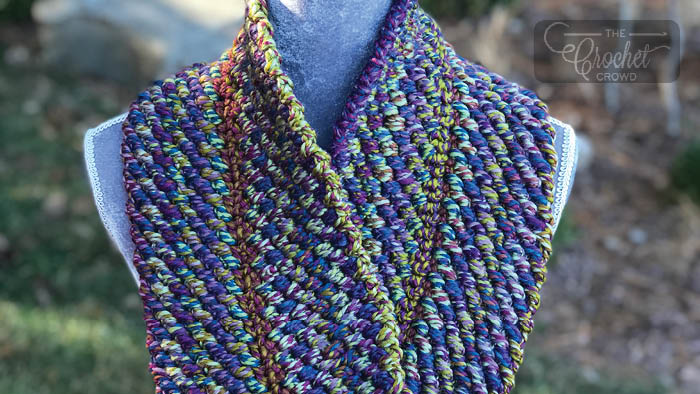 Michael Sellick aka Mikey
I decided to try my hand at a reversible cowl. My project is scheduled to release Christmas Eve as I am the last designer in this series. I asked to go last as I needed to buy myself more time for the creation process.
I crocheted my sample on the way back from the last Crochet Cruise that arrived in San Diego. It's infinity in concept. I've not technically written the hat version of this but is shown in the Free Design Your Own Hat Workbook. You can see me looking off to the distance as my head is turned. The colouring is the same but I took these on two different days and they look different. Bottom of page 4 on the left to be specific. The hat is done in reverse single crochet.


I used Red Heart Gemstone. I ball of the colour Peridot will do both the cowl and hat.
---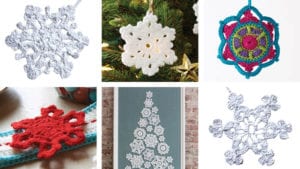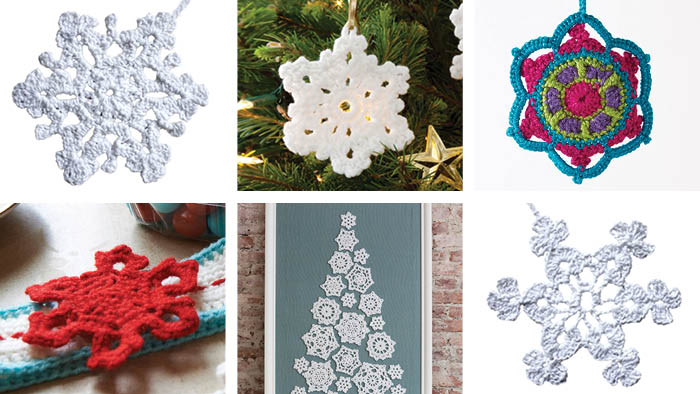 Snowflake Series
Crochet Snowflakes aren't uber-popular and I consider it to be very niche. They can have the feeling of being overwhelming. Like the 14 Free Patterns of Snowflakes series. Most of the snowflakes are just 3 – 7 rounds. I find there's not a lot of time commitment.
In attending a recent craft show here in Nova Scotia, I was heavily inspired by one woman who has done hundreds of different designs. Most are three-dimensional and pretty really congregate around her booth. I don't even know how she transports these wonderful stiffened projects without them crushing.


I still have a few more to get through. I figured, at least I have a nice collection from easy to a bit more challenging ideas.
---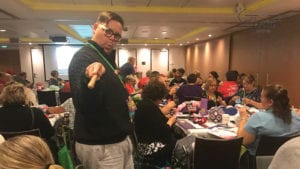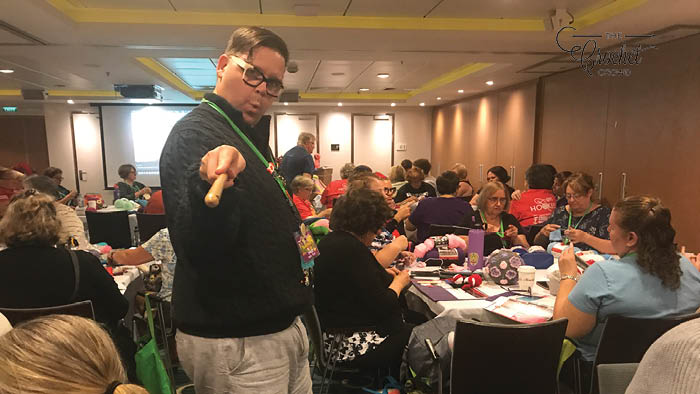 Weekly Meetings
Each week, I have a set meeting with our friends at Yarnspirations. We essentially share what we have that is coming out. This past week, they shared with me information on some designs I should think about filming. My meeting is on Fridays, so this weekend, I'm preparing and filming their suggestions.
My relationship with them is that everything I do is a choice. I can opt-in or opt-out. I really liked their choices.
One of the suggestions was to refilm the Crochet Christmas Fir Tree. So Friday night, I started to remake the project so I can film. I had filmed it back in 2014 when I was sponsored solely by Red Heart. The new tree took me about 6 hours to make and I finished it before midnight. Ultimately, they wanted me to do a photoshoot of all of the motifs as a group to give an indication that this tree is done by stacking the motifs on a cone.


I filmed last night and pushed it out early this morning.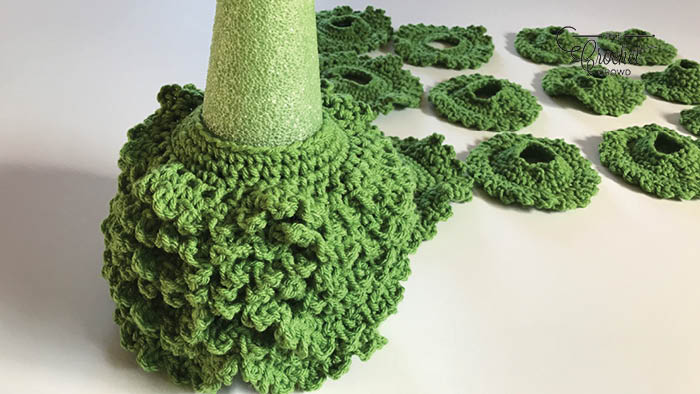 I have a few more projects to come out as a result of this week's meeting. I did the tutorial samples last night. I'm pretty excited about them.
---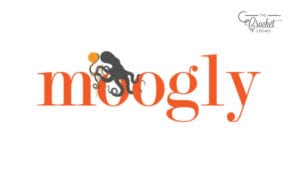 This Week I'm Meeting Moogly for the First Time
Most of you have heard of Moogly, aka Tamara. Confession time, until recently, I didn't know her name was Tamara. Moogly the name is very much like The Crochet Crowd, it's a name that doesn't have the owner's name. Like people running into The Crochet Crowd, they have no idea that a guy is running the platform and his name is Mikey. I like it that way.
The first time I messaged Tamara earlier this fall, I asked her, what does Moogly mean?
The word "moogly" was coined by our daughter when she was a toddler. She used it to describe anything wobbly, off-kilter, silly, or teeter-tottery. When I decided to start a mommy blog a few years later, the name Moogly was a natural fit! After a while, I decided mommy blogging wasn't right for me, but I kept the blog around because I had a crochet pattern I'd written on there.
Moogly, the platform, is huge. Her works are well known and she has a rapidly growing YouTube Channel. She is one of several Stitch Ambassadors of Yarnspirations.
I have had several conference calls with her on Skype. From my impressions, she's is extremely organized and well connected with crochet designers. She has her pulse on the crochet field.
---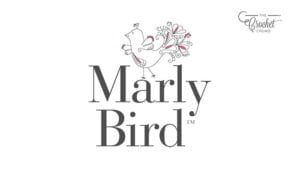 This Week, I'm Running Into Marly Bird Again
I will be also meeting up with Marly Bird at the same meeting in Toronto this coming week. We've been working with Marly in the second half of this year with Yarnspirations buying Coats & Clark, a brand of Red Heart Yarn that falls under that label.
Since the takeover, I've been able to move back onto Red Heart yarns products once again but also encompassing my base of anything under Yarnspirations.
Marly has branded her name as her business. I met Marly for the first time I believe in 2011. I didn't know her real name as I came into the industry with my pants down not knowing who people were. I was experimenting with Podcasting my tutorials and name Yarn Thing kept popping up into the category. I believe I was in the Leisure Arts booth and someone told me, it could be been Kristin Omdahl, that Marly is the Yarn Thing. So suddenly for me, Yarn Thing had a hostname. Marly had her computer stolen but graciously did a 7-minute interview with me for my YouTube Channel in the middle of being upset. True trooper, for myself, I would have declined an interview if I was that shaken. She's professional in that manner.
Fun Fact: I was sponsored by Red Heart and I ran into Marly at a show. She was really upset about trying to break into the YouTube Market. So Daniel and I gave her some advice. I suggested she go approach Yarnspirations to see if they are looking for a host. Ironically, I ended up changing my sponsorship to Yarnspirations 5 months later and she slid into Red Heart a few months after I left.
To me, Marly is the most well connected to the industry of hosts and crochet designers. For myself, I cannot keep up to my business and keep an eye on so many designers out there. She still runs her Podcast which requires her to have guests and be well organized. I don't know how she keeps it all together scheduling and mental wise.
Flying to Toronto
I am meeting up with both Tamara and Marly this coming week to brainstorm what 2020 looks like in the world of crochet. If you have any thoughts, leave them in the blog below on trends you are seeing or have any ideas. 
---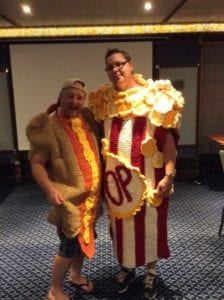 How Sponsorship Works
Yarnspirations has several Stitch Ambassadors. Our role is to keep crochet being approachable, fun and inviting for new crocheters to want to try. I want to be remembered as the person that excited someone to get started. The free tutorials are the gateway to do that.
I started with the notion that education and patterns are to be free. This opens up the avenues of learning. You cannot just buy a pattern book if you cannot read a pattern. So I am your person to expose you to patterns. With each new project, crocheters pick up more and more.
All of the Stitch Ambassadors have their own companies that they manage. In our contract, we have the power to say yes or no to anything. So it's never a forced situation of doing a project that we don't enjoy. You cannot fake enthusiasm, at least I cannot.
So each of the Ambassadors run their own strategies and sometimes bring Yarnspirations along for the ride. For myself, it makes sense bringing Yarnspirations in the same fun car as the resources and people behind the scenes are second to none.
The Crochet Crowd and Yarnspirations, are not always successful. We win and lose together. We learn from test trials. Part of the journey is trying new things and seeing what happens.
---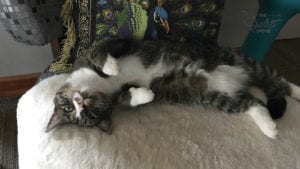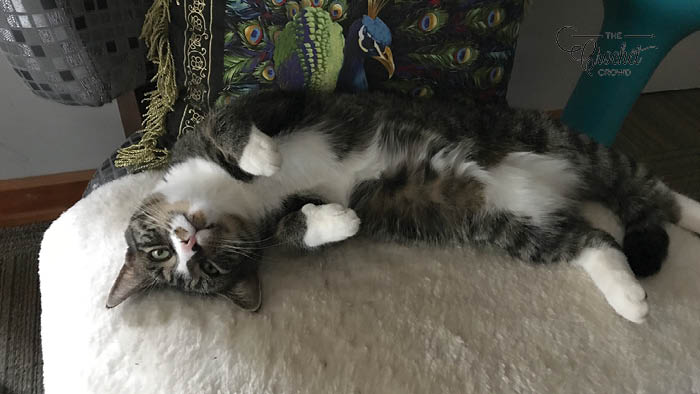 Kitty Time
What's going on Kitty? Well, it's getting cooler and so their outdoor adventures are now in short bursts. When it's raining, they are super excited to get outside but when the door opens, the look of horror appears on their faces.
Daniel put the cat bed on his desk for Binky Boo. She sleeps most of the day with him there. She wants to be within eyeshot of us.
Puss Puss is still on her nightly seeking for attention. If you roll over, the kitty wants to be petted. She's go it down pat. Lick the fingers, we will pet her. So the trick is to keep the fingers under the covers.
---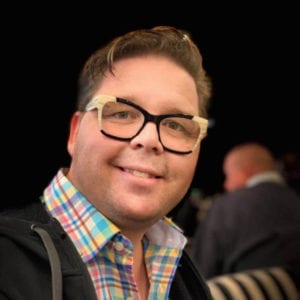 Pushing Through
Since the last crochet cruise, I was able to reset my mental state. I was like a beaten up parrot before I left for the cruise. I was flustered and having mental break downs on a regular basis. I think I just needed to laugh and evaluate my goals and personal responsibly of what others think is my problem to solve.
Yesterday, I was browsing through comments that are being pulled offline by bots as they are deemed inappropriate.
"Tell that f….. tw… to move their hands out of the f…. way! " 
Suggested Comment
"Mikey, do you think you could try moving your hands out of the way and being more conscious of it?" 
What a different tone eh! Clearly someone missed business negotiations in school at some point. Before the cruise, I would have self beaten myself up for this comment but yesterday I looked and shook my head in feeling sorry for the person that left that for me to find. It's called the sofa-quarter back. Meaning, just reaching through to intentionally hurt the host. It's the nature of the social media world today. I have to accept this is the realm that I am working in today.
I can handle the language as it doesn't bother me but in offering criticism, if there is a problem… have a possible solution to offer. That type of comment doesn't give me the desire to answer it, nor give their point of view any valid perspective. As a hands-on tutorial host, it's not always possible to move the digits out of the way.
I'm in a much better emotionally and mentally since the cruise. I am pushing back against negativity hard to save myself from myself.
People would be surprised at how kindness and create change. I think people are just jumping to the negative to cause unnecessary drama. Humans love to say we are intelligent and civil, some days, I need to see proof to even remotely think that is true.
---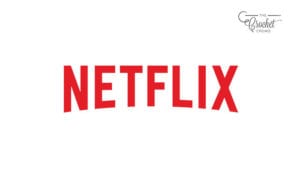 On The TV
This week, we've been watching a series called The Movies that Made Us. It's by the same people who have done the series of The Toys that Made Us.
It's looking back at iconic movies from the past such as Dirty Dancing, Ghost Busters and last night we saw Die Hard. It's showing behind the scenes footage and situations the crew and cast faced during filming.
Truthfully speaking, I'm not a celebrity follower. So telling me a celebrity's name doesn't always ring a bell.
At the end of the episode, a person goes back to where the movie was shot and a beautiful memory montage happens. For Dirty Dancing, the lake is pretty much dried up at the lodge where some of the movie is filmed. It was filmed actually at two lodge locations but you wouldn't know the difference.
Patrick ended up falling off that log and really hurting himself.
I didn't realize so many outtakes were left into the movie which is why it makes it a lovely movie watch. Where they are practicing in the lake for the lift, the lake is pretty much a swamp now. They didn't say why, but I wondered, what happened to the lake? So, of course. I need to know why. 
The lake has natural leaks in the bottom which is a natural process. Below is what happens with the lake.
---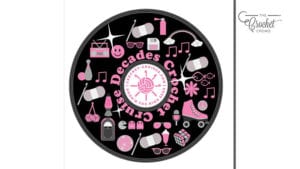 On Daniel's Desk is the new Crochet Cruise Logo
Daniel has submitted to me the preview of the logo for the next crochet cruise. We are Stitch'n Thru The Decades on the next cruise. We have rented the night club on board and have a fun line up.
I was lying in bed last night and thinking about dancing. He has used a mix of purchased icons and made his own for the logo.
So I was just over at his desk. I cut up a piece of paper to show him how the angles would work and asked him if the record can be more three-dimensional and the icons are dancing on the face of the record instead of being like a sticker on the record.
So I just snapped this photo without telling him. It appears he is trying to figure out how to make the album to be suspended in space. This will change the icons to appear more spacial in the distance which can be adjusted in size. I'm not gifted with Illustrator to know better but I know he uses YouTube to teach himself techniques for this program. There's always a way to do things.
Stay tuned next week to see if he is successful. I have faith he will come through.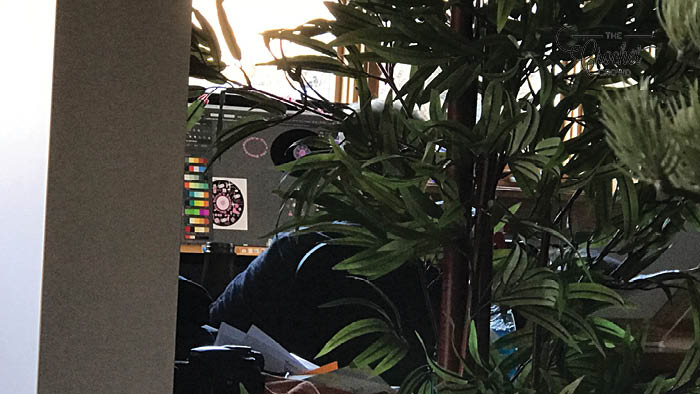 As always, if you any thoughts for me, leave them in the blog comments below. 
Thoughts from Preview Weeks
No post was found with your current grid settings. You should verify if you have posts inside the current selected post type(s) and if the meta key filter is not too much restrictive.