Crochet Hooded Cowl Pattern
Quick & Easy Cowl Pattern
How about a cowl for a last minute idea?  I had one that popped up last week with only a couple days before Christmas.  I need that I wanted to make something, it had to be nice, but I sure didn't have much free time.
I chose to make the Hooded Cowl by Yarnspirations.  The pattern recommends Bernat Alpaca and a size L, 8mm crochet hook, so I knew it would be quick.  But no alpaca in my stash and had to improvise.  I have about 6 large totes or yarn, but never right one.  Anyone else have this problem?  I couldn't even find a enough bulky yarn, so I ended up choosing Patons Metallic and using a double strand.
Yarn that Surprised Me
Let me say that before I ever touched the yarn, the name of it turned me off.  The word "metallic" does not give me a soft and fuzzy feel.  Just by the name, I imagined a scratchy yarn and not I would want to use around my neck.  Well, this yarn is very, very soft and I highly recommend trying it.  It has a silky feel that is lovely to work with and feels nice on the skin.  I'm not sure that I would invest in making an afghan with it, but for scarves and shawls, it's perfect.
Now that I've found my yarn, I didn't have 4 balls of the same color, so I picked the Metallic Black and Metallic Purple held together for my project.  I am not fond of crocheting with black yarn, so holding the lighter shade with it made it much easier for me.  So grabbed my hook and all set.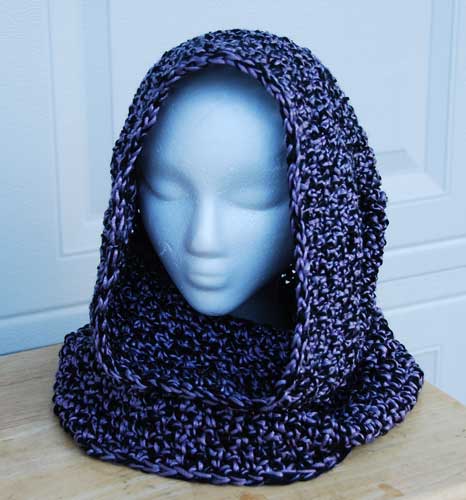 The pattern is pretty basic.  It's done in rounds with just alternating double crochets and single crochets.  The yarn gives the cowl and nice fabric that moves easily.  The cowl can be worn down on the neck, but when you step outside into the cold, you can bring it up over your head without getting "hat hair" and keep the wind out of your ears.
Thoughts?
Pattern
Easy to follow
Works quick
Pretty design
Yarn
Great for clothing
Silky soft
Not the best for blankets
Be creative! 🙂 – Jeanne – The Crochet Crowd