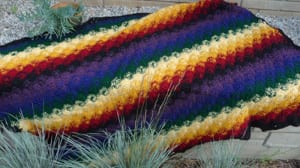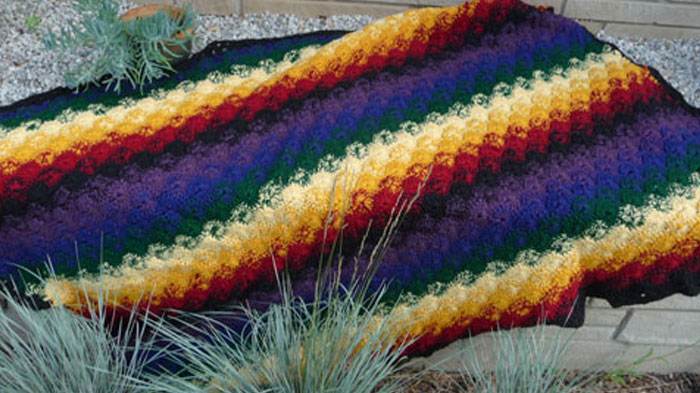 Crochet Catherine Wheels Stitch Patterns
The Catherine Wheel Stitch an amazing looking stitch. It resembles a wheel and can be done in different ways. You can do them so the wheels stack up or are spaced to resemble waves. You can do it in rows or in a square from the middle. It can be done from the middle in rectangular format but I haven't figured that out yet.
I learned this stitch from a book back when I was 14 years old. For 20 years, I didn't realize I had been doing it wrong but it worked. In fact, the one pattern, I intentionally show you how I did it all those years. You can see it has a significant texture. It doesn't ruin the stitch counts when I was doing it wrong. Essentially, I didn't clue in all these years.
Some patterns are not called the Catherine Wheel Stitch in the name of the project. But ultimately they really are.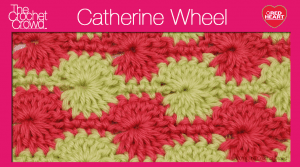 Basic Stitch Tutorial
The Catherine Wheel Stitch is one of my ultimate favourite crochet stitches. I love how the stitches are tighter together and the circles it leaves behind leaves me with a sense of pride at the end of the project.


Free Pattern: Crochet Gentle Waves Blanket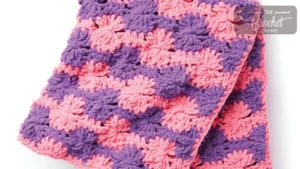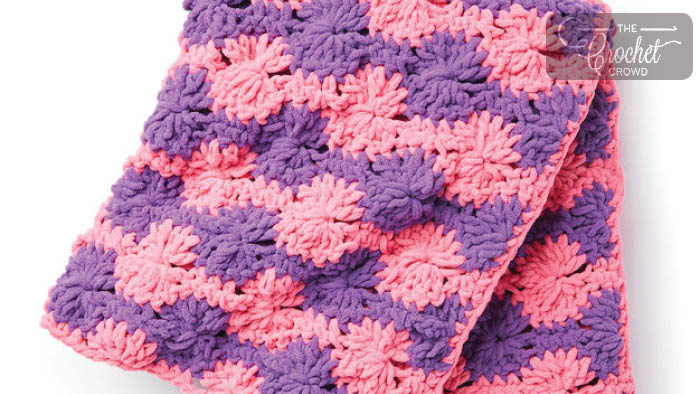 Crochet Spinning Wheels Blanket
My favourite stitch of all is the Catherine Wheel Stitch and this Crochet Spinning Wheels Blanket has it.
I completed this stitch when I was 15 years old as my second afghan that I completed in my life. Today, 30+ years later, it's still my favourite and the Bernat Blanket yarn makes this stitch incredible.
Stitch multiple is is 8 + 1.
You can see what this stitch looks like in other colours of Bernat Blanket below. The Big Wheel is the same pattern as the Spinning Wheels, so the tutorial is the same.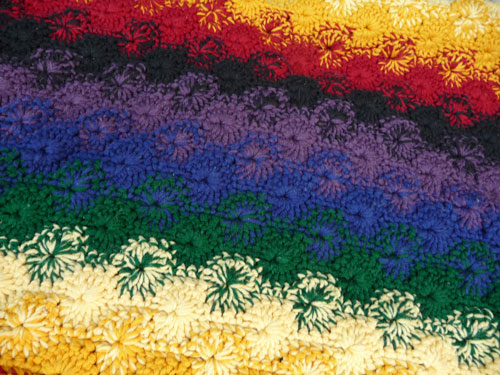 Vibrant Catherine Wheel Stitch - Marled
This afghan was completed in 2001 and for me is an afghan that I will never forget. Like many people turning to crochet to deal with emotional turmoil in our souls, this afghan has a lot of emotion worked into this afghan.
Some of the colour shades seen here may be faded off the original colours due to countless washes and the age of this heavy-duty afghan. This is the Catherine Wheel Stitch Afghan.
This is marled meaning there are two strands used at the same time. This allows for a slower transition. When you see a solid circle, it's two strands of the same colour.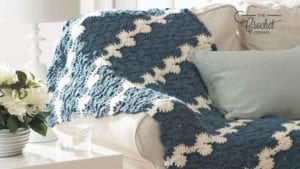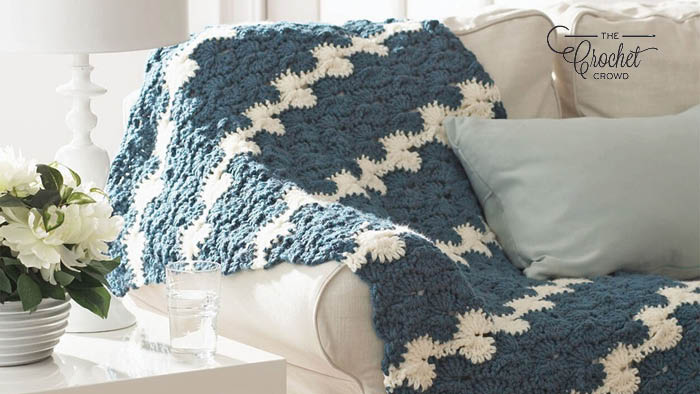 Crochet Gentle Waves Blanket
This beautiful free crochet pattern by Jo-Ann Fabric and Craft Stores is called the Gentle Waves Crochet Blanket. It is designed as a lap blanket for those cooling off evenings while sitting comfy at home.


This is very similar to the Catherine Wheel Stitch and is one of my all-time favourite stitches of crochet. My first afghan after learning double crochet and doing a full double crochet afghan was the Catherine Wheel Stitch. It's a tight stitch and looks incredible. I've done several blankets in this particular stitch.
Crochet Big Wheel Afghan
Introducing the Bernat Blanket Big Wheel Crochet Afghan. This is a Michaels Store exclusive pattern that can be found only on their website. The link provided will take you there.
This afghan consists of Bernat Blanket Yarn that is chenille and really thick. To make this generous 50″ x 60″ generous size afghan, you will need a total of 6 balls of the 300 gram balls.
You can substitute the Bernat Blanket with Bernat Baby Blanket as the yardage and weight are the same. This will give you far more colour options too.
I am making an assumption that if you wanted to make this afghan 3 colours instead of 2. You could most likely get 2 balls of 3 colours instead of 3 balls of 2 colours. Of course, if you want to make your afghan bigger, you just have to add more yarn.
This afghan is very similar to the Catherine Wheel Stitch. There's a slight change in the number of chains between the centre points and the single crochets. It's extended by 1 extra chain so it will sit properly.
Due to this blanket being made of Bernat Blanket Yarn, this will go super quick to make.


Catherine Wheel Stitch as Diamonds Concept
The Catherine Wheel Stitch can be done as a diamond as well. The latest Better Together Afghan by Jeanne and I are using this stitch concept.
Catherine Wheel Stitch Jumbo Concept
You can change the stitches to using trebles which will expand the stitches to be much taller and wider. This is the Jumbo Catherine Wheel Stitch.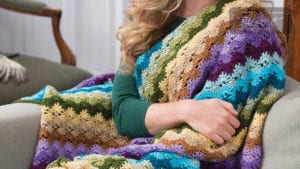 Crochet Twilight Throw
I was really taken by this afghan as it's really simple. It appears to be waves that are ever so slight but it's shells that are offset from each other to give it the visual effect. I said to a fan, I bet this afghan would look amazing in so many other great colours too!
It's a brand new pattern by Red Heart. Do you want a free pattern? It's called the Twilight Shells Throw.
Good Luck and if you do this pattern, don't be shy to post it on our Facebook. We always love to see your ideas and more.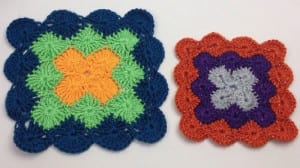 Catherine Wheel Stitch Squares
We have both squares in the same article. There is a double crochet version and a treble crochet version. The sizing is significant between the two. Follow this link for both versions.


Double Crochet Tutorial Version
Treble Crochet Tutorial Version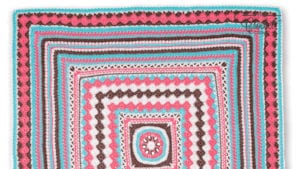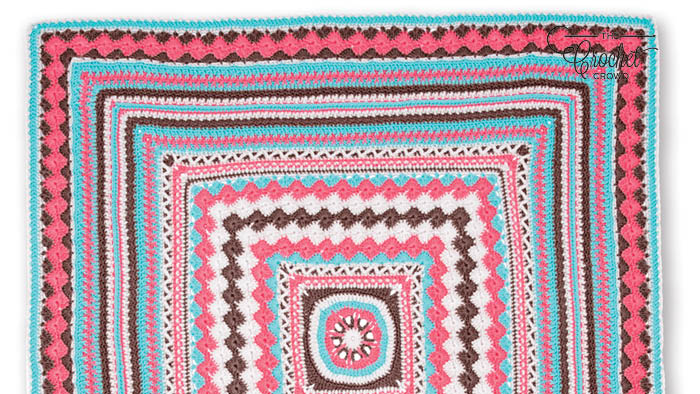 Crochet Better Together Afghan
The Crochet Better Together Afghan by Jeanne and I have the Diamond configuration of the Catherine Wheel Stitch mixed into the project of this summer stitch sampler.


Pattern Suggestions
More Blanket Patterns