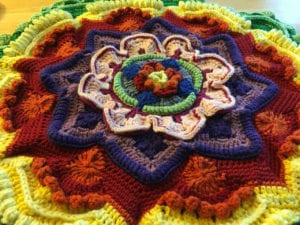 Crochet Mandalas
They continue to be a very popular form of crochet art.  I think that the circular shape is pleasing and the color options are endless!  My daily news feed on Facebook is filled with these beauties.
My friend Megan shared her photos with me of one that she is currently working on called Mandala Madness, an ongoing CAL.  Isn't it so lovely? It's hard to have a job and want to crochet all the time.
I think one of the biggest Mandala projects last year was Sophie's Universe. It was intriguing to follow along and watch the progression develop. It's not easy to design a mandala as the stitching can overlap and fly into different directions… all while keeping a steady count and ensuring it still lays flat. I envy crochet designers that can do this.
Here is a list of some of the most popular Mandalas available free online:
More Crochet Collections to Enjoy