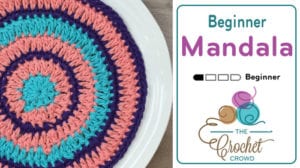 Beginner Mandala
In the Beginner Mandala, we are going to go through some quick tips and I will post the pattern that I used to make it.
In this mandala, we will switch between using a single crochet and double crochet in some rounds. We have to keep the growth consistent and you will see growth rates increase as we get bigger. This is important because if you can see how the growth works, you will be able to move on.
Look For The Slices of Pie
Though you cannot see the slices of a pie in the mandala used today, there is actually 12 slices that make up this mandala.
How do you determine this easily?
Look at the center instructions. You will notice there is 12 dc that surround the center ring that we start with. You can almost assume in many cases that it will 12 spokes of growth rate as it gets bigger.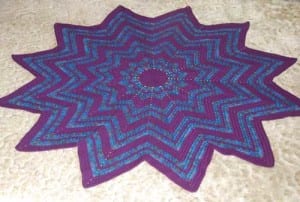 If you see center of the circles such as 6, 8, 10, 12 and so on. You can almost draw an invisible line that it is an indication of the growth.
Jeanne's Spectrum Afghan on the right. How many spokes make up her growth rate?
If you answered 12, you are correct. Look to the points as your indication.
Losing the Circle Look?
In any circle with crochet, if you make the circle big enough, you will notice that a true circle doesn't exist. If you started off with 12 stitches in the center, eventually as your afghan will get bigger, you will notice you will end up with 12 flat sides. This happens in any size circle.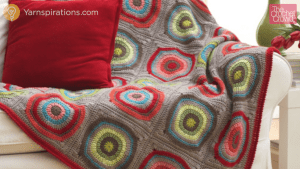 Knowing you will loose the full circle look and eventually end up seeing flat sides, there is a way to avoid it so your work looks and is round.
Why do you think the circle ends up with flat sides?
Due to the center having 12 stitches, if you always keep the growth rate of a circle in the exact same location for each round, it will cause the work to reveal the spoke look that appears invisible when the circles are small.
In the Circle in the Square Afghan, the designer has changed the growth location for each revolution. Though she forces us into a square after a circle round, the center circles are truly round. What makes this harder is that us crocheters prefer the growth rate to be consistent and easy to remember. It's one of those things in life, Rome wasn't built in a day mentality. You cannot have it both ways... but maybe you can?
Ways to keep the circle look without having the spokes appear is to change the stop and start location for the rounds where that is an option.
In the instructions, I will tell you to start in any stitch in the circle and proceed with my instructions. It will keep your mandala looking fully circle. This will not have your growth steps perfectly align in each round which creates that spoke look.
Hide in Tail Ends Whenever You Can
Whenever there is opportunity, ensure you bury your tail ends under stitches where the colour matches. Crochet over top of the stitches to secure and hide tail ends. Mandalas can switch colours or carry colours in the back end. You can end up with a ton of cut strings that will require dealing with. Save yourself time and think to do it at the time instead of waiting to the end.
Tutorial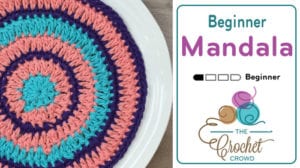 Let's Try a Project Together
Let's crochet this simple circle mandala and put your skill building to the test. For those who are uncomfortable with circles and others looking to try using the technique of switching the stopping and starting point to make better circles, this is a good challenge for you.
You can download the written pattern here.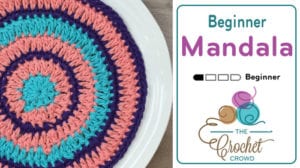 Did You Noticed the Starting Instructions for Each?
I had you pick any stitch in the circle to begin. This will make your mandalas more perfect in circles.
In some rounds, I had to place an extra stitch in the same stitch as joining for the growth while other rounds I had you place 1 stitch in the beginning and move to the next set of stitches before hitting the stitch that has 2 in the same stitch. This helps cause the circle to loose the spoke look as well. It makes it more perfect in appearance.
The Workshops
Lesson 2 - Beginner Mandala - This article
Final Tip
Unless it's avoidable, always changing the stopping and starting locations when doing anything circle. As long as you continue to count properly, you will have better-looking projects. This includes items like hats and much more.
More Mandalas Ideas