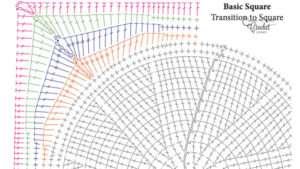 Transitioning a circle project into a square is not as hard as you may imagine. I created a Circle to Square Transition Worksheet.
The circles are smaller in size, I turn to Yarnspirations to look for other patterns where a circle has been converted into a square. Usually, the smaller sizes have free patterns to reference.
Most of the questions we receive are when the circle is substantial in size like 140 sts and above. There is a mathematical way of doing this and you will use your hook and do each round making a decision each time.
In a circle of 160 sts, it takes about 3 rounds to get the square. In my future blanket with 292 sts in the round, it took me 5 rounds to get to a square.
The worksheet deals with mathematics and tips to get started. There is not a solution for everyone. It's customized. Messaging me to figure this out for you won't work as I physically have to do it myself to give solid numbers. So I am leaving you how I figure it out in the hopes you will put in the work to solve this problem on your own.
More Ideas

Calculators
---
Tutorial
This is an example of a large circle transitioning to a square. The free pattern for this Stitch Along Blanket is here.
More Blankets