---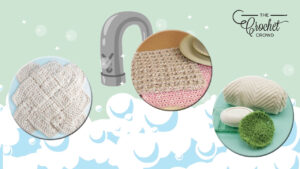 In this grouping of 3 crochet dishcloths, we have the Red Heart Circle Scrubby, Sailor's Knot Dishcloth and Basic Crochet Dishcloth. The green scrubby version is great for craft shows if you are looking for ideas for quick sales.
I have included 1 bonus tutorial for Entrelac Textured Dishcloths. The pattern isn't written out but you can follow the tutorial at your own pace to learn this skill and how to apply the texture at the same time. The tutorial also covers how to change the sizes of entrelac.
Be sure to only use 100% cotton or plastic-based like Red Heart Scrubby items for dishcloths as the dishcloths need to be washed and dry out. If you use acrylic or animal blend yarns, the item will not last and acrylic will mould out as it hangs onto water longer than cotton.
---
Gallery of Dishcloths
You can click any picture to get the free pattern now. Matching tutorials as they release will be under this gallery.
---
Mike's Tutorial Notes
Whenever I need to create materials to help demonstrate, I call them my Tutorial Notes. In this section are tutorial notes I made that are available for print or free download that doesn't appear in the written instructions. These primarily are crochet diagrams when I need to showcase the steps more carefully.
---
Tutorials
Each week until the beginning of September, a new tutorial will be added to our YouTube Dishcloth Collection. For those videos, the free patterns are linked in each of the video descriptions. Not all videos are available from a left-handed perspective.
See the above gallery for links for each written pattern. Videos will be added as they are made and ready with the dates listed below.
---
Red Heart Circle Scrubby
April 20th Launching 2 PM ET
https://youtu.be/IwWpG0h_IYI
https://youtu.be/gdIOZM8AoyM
---
Lily Sugar'n Cream Sailor's Knot Dishcloth
April 30th Launching 2 PM ET
https://youtu.be/ApZqVIxaz5Y
https://youtu.be/WqFsFugqdkI
---
Bernat Waffle Pattern Dishcloth
May 4th Launching 2 PM ET
https://youtu.be/pS_qAIs52tc
https://youtu.be/U65YSJJ_gxE
---
Bonus Entrelac With Texture Dishcloth
Launching May 3rd at 2 PM ET.
Bonus Release. I created this dishcloth out of curiosity and I am adding it to this collection. I am not writing out the design as it's complicated and you can follow the tutorial to learn how it's done. The tutorial also covers how to change the sizes of your entrelac for any size you wish.
https://youtu.be/ApZqVIxaz5Y
https://youtu.be/WqFsFugqdkI
---
More Dishcloths