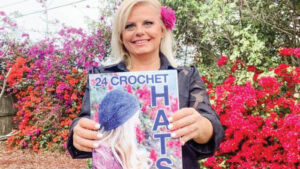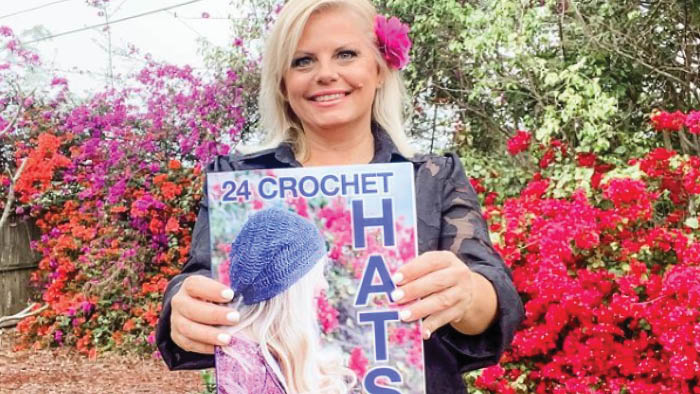 Kristin Omdahl, designer extraordinaire has just released another self-published book called 24 Crochet Hats.
The 115-page book is filled with patterns for all levels of crocheters. From the simplistic to the stitches that will tease your imagination with flare. Yes, even a pattern for a Tunisian Hat is included.
The book not only has the patterns but also helpful tips on the reading of patterns including juicy nuggets like blocking.
Kristin is the first crochet designer I ever paid attention to back when I started The Crochet Crowd. It never occurred to me that there are designers that have their own branding and books and stuff. I bought my first pattern book that one dedicated author had done. Crochet So Fine. My original book from when I was 14 was a generic book of stitches. Due to the fact I had learned to crochet using diagrams, I gravitated towards Kristin's designs as it made me feel like a superhero of crochet. I could follow something complex with the help of her second to none diagram work.
Kristin was also the first designer to recognize me at a show and was truly an honour for me.
Kristen's latest book, which is her 20th book, is a large print book that is easy to read with a font that is easy on the eyes. You can purchase a hardcopy of this book and even a copy that is autographed by her directly and sent from her studio. Go for the autographed copy, treat yourself.

---
Be So Caring Book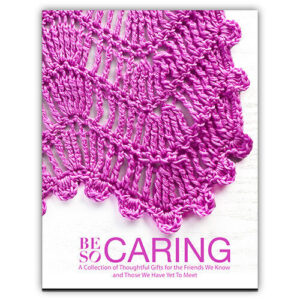 Kristin also has her first self-published book called Be So Caring.
A book inspired by thoughtful gift ideas. But there more to this book than you realize.
Kristin's backstory is heavy and she truly gets people who struggle with situations to see themselves through. This book is a give-back situation for Kristin. 100% of the proceeds of this book are producing Be So Helpful Bags to shelters across the USA.
Some patterns for you, some help for another person you will never meet.

---
Kristin is Intuitive
She is watching what people love in crochet and knitting projects. She designs with skill levels and budgets in mind. It's what makes her one of my favourite designers. Best of all, if you ever meet her, you will truly get that she's down to earth and approachable.
More Ideas
More Pattern Books