---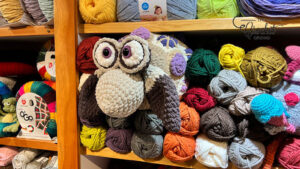 Bernat Blanket is one of my favourite yarns to get things done with quicker results. It thickens up the projects quickly without leaving big gaps unless you intentionally wanted them. When I learned to crochet, I learned with 4 plies medium weight yarn with an N/10 mm hook. The hook never matched the yarn but my mom knew that if I saw results faster, I could get to the finish line faster.
I find Bernat Blanket is a good product to use to teach new crocheters but also for us regular crocheters, a baby blanket is between 2 to 4 hours depending on your speed and motivation, of course. Remember it's not a race. It's easy yarn to take care of and extra plush that can double as a blanket or even a floor play mat.
For Amigurumi, it can make other projects blow up in size like the Bah-Bra Crochet Sheep shown above.
---
Gallery of Cuddles'N Clouds
We have some surprises coming but are not ready yet. I need this article to be live to form the connection for the linkages. Sorry for the inconvenience.
---
More Baby Blankets