Crochet Summer Top Patterns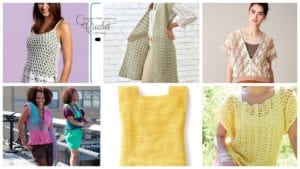 Summer is coming, warmer weather too I promise, well at least for those of us who live on colder climates this gets us pretty excited. For those of you who live in warmer climates feel free to bottle up that heat and sun and send it to me!!  This collection of tops is in celebration of that wonderful warm weather that's on its way. A top you will be excited to wear this summer.
I love wearing tank tops, so any top that I can make that I can throw over the top I get pretty excited by, more so when they turn out like their supposed to, I started the summer breeze one last summer, it's in the UFO pile I'm a squirrel I own it I get distracted easily, but my goal is to actually get it finished and wear it this year!
---
Crochet Floral Cami Top Pattern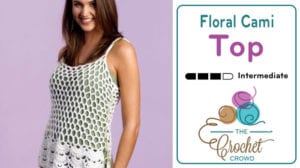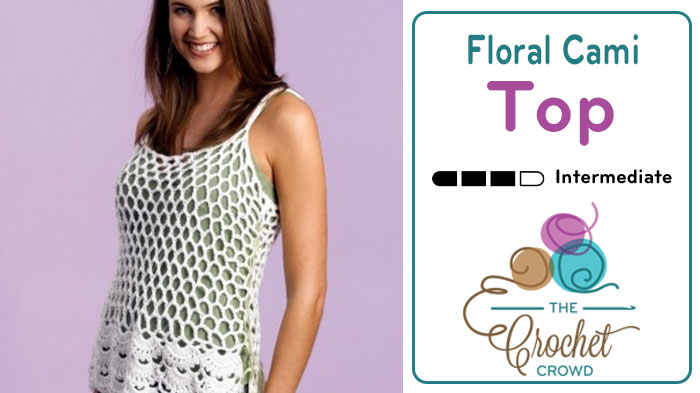 This is a super cute little tank to put on over a spaghetti strap tank, I like wearing those in the summer, but always feel like I'm not wearing enough so I usually end up wearing 2 tanks together, this Crochet Floral Cami Top Pattern would be a good one to work up to wear over a tank and dress it up a little, you really do get bored of wearing plain tanks all the time, I know I sure do. Making up some of these Floral Tank Patterns in a couple of different colours is a great way to freshen things up.
This Crochet Floral Cami Top Pattern was made using Caron Simply Soft, it's such a pretty yarn, I have a few patternless balls myself, I think they may have found a new home.

Crochet Wrap And Go Sweater Pattern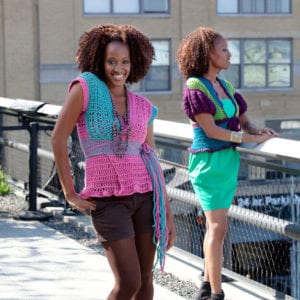 This pattern really caught my eye, it's unique and fun, you could easily use this Crochet Wrap And Go Sweater Pattern as a cute little summer jacket, that's how I would use it, I would put the 3/4 sleeve on one and possibly a little longer, of course, make one with the no sleeves to throw over a tank top. This Wrap And Go Pattern is a great little pattern that you can really play with.
This Crochet Wrap And Go Sweater Pattern were Designed by Double Stitch Twins, made using Red Heart Stitch Nation Alpaca Love, That's not one I think we have around here, we do have really pretty baby cotton that I would substitute with.

Crochet Simple Tank Top Pattern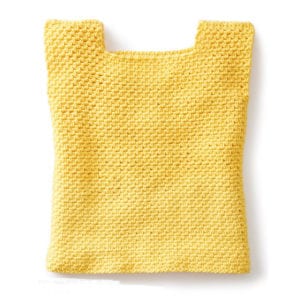 This is a cute and simple little top that would go really well with anything. Wear this Crochet Simple Tank Top Pattern with capris or a long skirt. I really love the bright colour used in this pattern and I think it would work up really well in any colour you decide to make it in. It's a really easy pattern you'll be wanting to make up a few of these tops for your self. Spring is the perfect time of year for this Simple Tank Pattern with a bit of the wider sleeve it's not too warm out to wear it.
This Crochet Simple Tank Top Pattern was made using Bernat Maker Fashion, there are some really lovely colours, I'd like to try it in Caron Cotton Cakes. Give this top a try it will be a great addition to your wardrobe.

Crochet Summer Breeze Top Pattern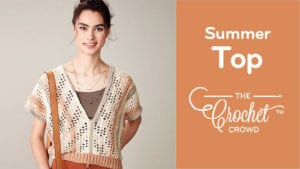 This is the top that I started and haven't finished yet, it's a really east top to do, I just get easily distracted with another pattern that pops in my head and away I go. Mikey had this one worked up on display in the studio. The only thing I changed in this Crochet Summer Breeze Top Pattern was the length, I like my tops on the longer side.
This Crochet Summer Breeze Top was made using Caron Cotton Cakes, when reading the pattern for how many it takes for your size, keep in mind this pattern was done in the old sizes, those cakes were smaller so the number of cakes you'll actually need won't be what it says.

Crochet Scalloped Top Pattern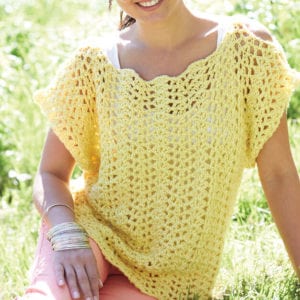 This is a really pretty top you could easily dress it up, or go more on the casual side with this top. Make this Crochet Scalloped Top Pattern longer in a cotton yarn for a bathing suit cover, or make it into a tunic top.
This Crochet Scalloped Top Pattern was designed by Lorna Miser made using Caron Simply Soft. This top will work up really pretty and any of the Simply Soft colours, or if you have another yarn in a worsted weight you prefer geat creative, this is another one I would like to try in the Cotton Cakes, but in one of the solid Colour balls, they have now there are some especially pretty colours out this year. I'm pretty excited to work up a top or two, at the very least finish one I started.

Crochet Sage Stitch Long Cardigan Pattern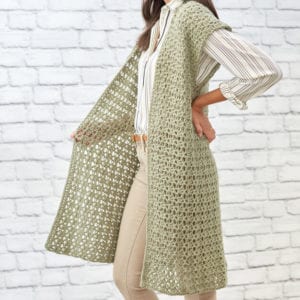 Every now then it's nice to go for something a little different than the usual go-to top. I have a couple of tops that are like this but not crochet, that I like to wear over my tank tops when I'm going out running errands, or if I'm getting together with friends.
This Crochet Sage Stitch Long Cardigan Pattern Is a great cardigan for the office if you were looking for something for work. I haven't tried the Sage Stitch I really enjoy learning new stitches, so I'm pretty excited to give this one a try when I get a chance.
This Crochet Sage Stitch Long Cardigan was Designed by Rohn Strong made using Red Heart Hygge Charm. You can use this or choose another yarn you enjoy working with to work this up, I can't wait to see photos of this one made, I'd like to see how everyone else makes out with this stitch.

Pattern Suggestions
Crochet Top Pattern Ideas