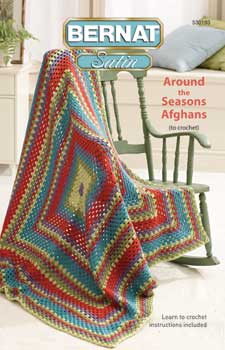 Around The Seasons Afghans Pattern Book
Walk the seasons in a full colour illustrated pattern book dedicated to Crocheters. Using Bernat's Satin Yarns, the colours are rich and very modern. Actually, truth be told, Every pattern in this book appeals to me as a Crochet Designer / Video Host. Each pattern is dedicated to a season but don't tell Bernat I said that you could always use the Chevron Pattern that is dedicated for Fall and change the colours to make it for a different season. I don't think I have ever seen a Chevron pattern that I have loved until this book portrayed it in pattern number 6.
This book challenges shapes going from extremely large granny squares as shown on the cover to Octagonal Shaped Blankets. The book gives nice close-up shots of the stitches for those who are visual learners. Bernat leaves nothing to the imagination in this book with colour pallette choosing. They are specific to the yarn for you to create exactly what you see!
The Sweet Summer Afghan is really magnificent... so great that I would probably match each colour exactly to get what I see in the photograph. At the back of this book are illustrations showing you how to crochet. Great for newbies and people needing a refresher. I believe that every pattern in this book is achievable with a newbie crocheter and beyond. Simply a fabulous pattern book to add to your collection.

Pattern Suggestions
More Books To Check Out