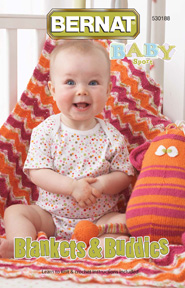 Bernat Blankets & Buddies
What a fun book this Blankets & Buddies is. Glossy pages with beautifully coloured pages for Knitters and Crocheters. Included in the front of this book is How To Instructions for both Knitters and Crocheters. This allows newbie knitters and crocheters to be included and allows people who need a mini refresher to be successful when working with the patterns inside. It focuses on Blankets and little creatures you can make that complement a baby's colour coordination in the nursery.
The yarn featured inside this book is Bernat's very own Baby Sport. Some extremely bright colours such as the cover but other really soft and gentle colours such as the "Man In The Moon" blanket and Moon Creature that has instructions to complete. This book provides detailed instructions including colour mixing ideas. You could create one creature in several colour combos which you can create several family members of the same creature by changing the colour colours.
As concerned parents, the creatures have no parts that can come off or be a choking hazard. Overall

a great pattern book for a new mom or proud grandma for a child's first blanket and stuffed creature created especially for the new baby!
Pattern Suggestions
More Books To Check Out