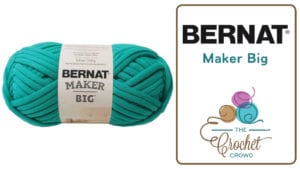 Bernat Maker Big Yarn
Due to popular demand of Bernat Maker Home Dec Yarn that came out, consumers demanded an even thicker yarn as people were double and even triple stranding the yarn for even thicker rugs, afghans, pillows and more.
So now, Bernat Maker Home Dec has a big sister called Bernat Maker Big.
I think you will really enjoy this yarn. Maybe even easier to teach people to knit or crochet as the plies cannot split and it's easy to see stitchwork.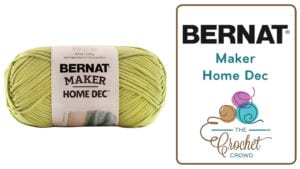 This yarn is exclusive to JOANN Fabrics and Crafts and is in select locations only. So it's not chain wide across the USA.
My first impression of this yarn is what everyone else would say. "WOW... That's Thick!"
What I appreciate it about it the most is that it is wound pretty tightly. So there's a generous amount of yarn inside 1 ball. It's also value priced as it's under the brand name of "Bernat".
It is extremely strong as you won't be able to break it apart with your hands. It's a tightly thread knitted stuff that is stuffed to give the full look.
Details about this Yarn
Jumbo Weight - 7
Recommended 12.75 mm / US 17 Knitting Needles
Recommended 15 mm / Q Crochet Hook
50% Cotton, 50% Nylon
250 g / 8.8 oz
Approx 66 yds / 60 m
Machine washable and dryable on delicate.
Free Patterns
More Bernat Yarns
No post was found with your current grid settings. You should verify if you have posts inside the current selected post type(s) and if the meta key filter is not too much restrictive.