Log Cabin in crochet stitches is pretty widespread. Add in Crochet C2C Log Cabin without sewing; you have another hit on your hands. I originally started this as a technique tutorial but got hooked on it that I wanted to finish it and see a full-size example.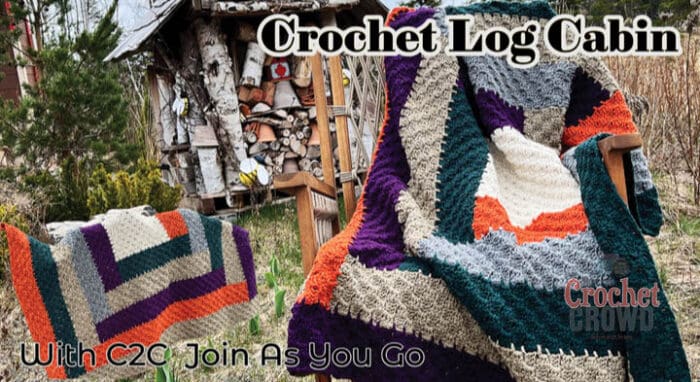 Crochet Blanket Details
The blanket is 63" x 63" square using 5.5 mm I/9 Hook.
It's using six balls of Caron One Pound total.
Colours include Off White, Taupe, Medium Gray Mix, Pumpkin, Deep Violet, and Forest. Pumpkin and Forest are now discontinued, and I would switch Pumpkin to Light Terracotta and Forest to Hosta.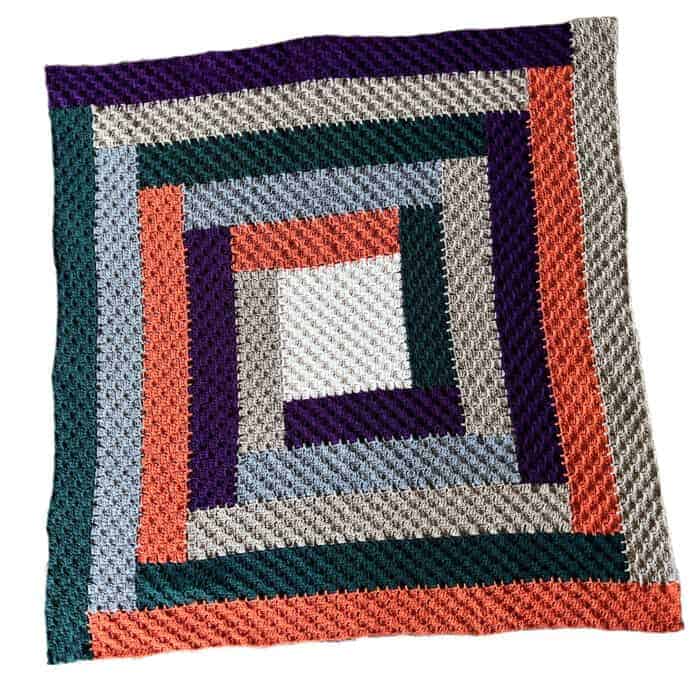 The middle box is Off White, you won't need much yarn for that, but for the remaining colours, you need most of each of the balls.
The centre C2C is 15 boxes by 16 boxes. The remaining rectangle stripes are 5 boxes wide and travel across the sides.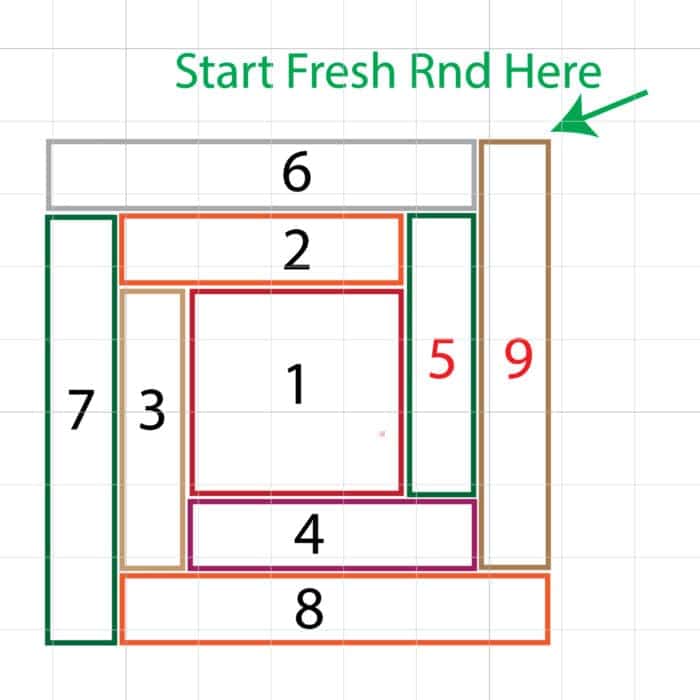 Each time you circle with the rectangles. The last box (examples 5 and 9) will not have extra growth at the ends. I made a huge mistake of not marketing the first rectangle of a round with a stitch marker to ensure I didn't screw that up. Each time you finish a round, the blanket should be square again.
The centre box doesn't need to be square, it can be rectangular. You can also not have uniformity in the rectangles to be even more random.
Truly Random
The blanket layout is completely random, with the exception of one rule only.
Do not have the same colour touch each other. It's why I used 5 colours, so the randomness had better options. I made decisions as I finished one rectangle to decide my next colour to use.
Tutorial
The tutorial below will show you how to do this concept. I did rely on you to know the basics of C2C. I will include an introductory tutorial as well for this.
Basics of Corner to Corner C2C Tutorial
More Corner to Corner
If you really like Corner to Corner, have you seen my new stitch called the Criss Cross Corner to Corner Blanket? It really is something else! Fast crochet for spontaneous crocheting.