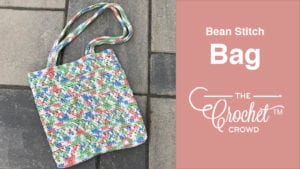 Crochet Bean Stitch Bag
Introducing the Crochet Bean Stitch Bag, a design by Mikey. Jeanne inspired the bean stitch and it's a pretty addictive stitch too!
Using variegated yarn, this stitch can look really great. The stitch provides thickened textured appearances. The stitches appear to be interwoven. For bags, it gives it added strength to the bag.


The stitch also breaks up the variegation repeating pattern that can happen when you use the same stitch throughout.
There is a repeating of rows 2 - 9 to have the bands of bead stitches that appear in the sample. See the introduction of the tutorial to really get a sense on what it looks like.

Tutorial
More Bag Ideas