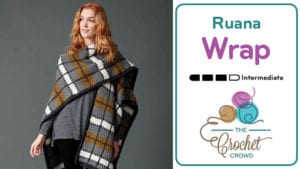 Crochet Blanket Plaid Ruana
This absolutely gorgeous Crochet Blanket Plaid Ruana is so incredibly easy to crochet. It's a one-piece structure that starts at the back of the Ruana and works up to the shoulders.
At the shoulders, you leave a gap space in the middle for your neck and then crochet down the two panels. The model is wearing this with the one panel tossed over her neck while the other still hangs down.
The concept is easy and the patter is easy to master too.


More Pattern Ideas
Tutorial
Some Wrap Pattern Ideas