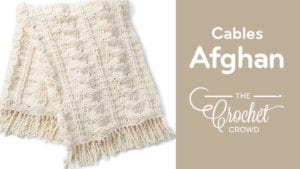 Crochet Cable Blanket
There was a demand for a style of Crochet Cable Hat but to have it as an afghan instead. Yarnspirations listened and delivered with an ultra-plush Crochet Cable Blanket featuring Bernat Blanket Yarn.
In preparing for a tutorial. I sat with this pattern to run a test of the design. I substituted using Caron One Pound with a 6.5 mm / K Hook. There is a diagram included with a repeat pattern.
The multiple repeat pattern for this pattern is Multiple 18 + 12. So chain in multiples of 18. When you are satisfied, add another 12 chains to bring it back to balance for the pattern to look the same.
For the Caron One Pound, every multiple of 18 = 5" wide.  So if you want a blanket that is 60" wide... just do the math... 60" / 5" = 12. 12 x 18 = 216 chains + 12 chains to bring balance = 228 chains.
In testing the pattern, the pattern is pretty easy to maintain. You have 1 row that has the cross over... then 3 rows of maintaining raised stitches created through front and back post double crochets.
This pattern is one-sided, so the front you see in the photo.
Due to using Bernat Blanket, the project will hook up pretty quickly.


Pattern Suggestions
Inspired by This Hat
Get the Pattern for the Crochet Cable Twist Hat.
https://www.youtube.com/watch?v=j2CHXBWFSGs
Tutorial
Afghan Pattern Ideas