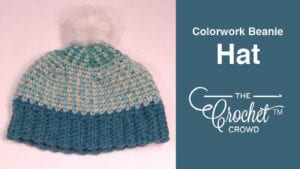 Crochet Colorwork Hat Beanie Style
Crochet this amazing Crochet Colorwork Hat. This is easy to crochet hat that utilizes 1 ball of Caron Chunky Cakes or Caron Chunky Cupcakes to make. The colours change every other row by being strategic with the ball. Use one strand from the inside of the ball, the other from the outside of the ball. The colours work together and create unique looking projects.
For the toque style, follow the suggested pattern. Using the 6.5" distance from the edge of the brim before starting the top decrease. For the beanie style, crochet only 5.5" up from the brim and it forms the top of the head shape better. Each is a style on their own.
Caron Chunky Cupcakes are exclusive to Michaels USA only. For us here in Canada, I would suggest Caron Chunky Cakes that you can find at Michaels.


More Pattern Ideas
Tutorial
More Hat Ideas