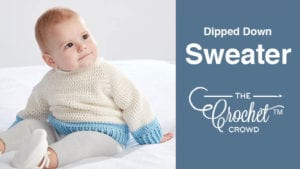 Crochet Dipped Baby Sweater
A Simple and easy level crochet baby sweater called the Crochet Dipped Down Sweater. Using Bernat Softee Baby Cotton yarn, it's a mix of cotton and acrylic yarn. Cotton makes the yarn last longer and easy to manage, care wise.
You will start at the top of the sweater to form the yoke and move downward. The sleeves are done at the end with rib stitching for the edges.


More Pattern Ideas
More Baby Sweater Ideas