Crochet Fun With Triangle Patterns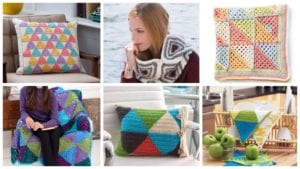 There are so many different ways to play when you crochet a project. You can work in a straight line or a from the center like in an afghan. There are also lots of shapes you can make like circles, hearts or stars to name a few.
Today we're focusing on having fun with triangles, from cowls to dishcloths we are going to play with the Triangle shape to create differently fun crochet patterns.
I love seeing how many different crochet patterns you can create from a simple shape.
Pattern Suggestions
---
Crochet Springtime Triangle Dishcloth Pattern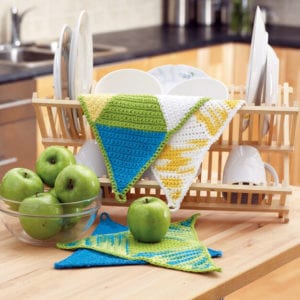 Dishcloths are a pretty popular item that most people at one point or another have made at least one of them.  This Crochet Springtime Triangles Dishcloth Pattern is a great stash-busting one that you can use those leftover bits we always seem to end up with, at least I do.
A larger triangle made up with four smaller triangles a great way to add a springtime splash to your dishwashing! These Crochet Springtime Triangle Dishcloths are also great for sitting under plant pots, my kids love grabbing these for wrapping around freezes.
Made with Bernat Handicrafter Cotton, these are also a great gift idea, as well as craft show idea, they don't take long and you can whip up a few of these in no time.


Crochet Triangle Puzzle Pillow Pattern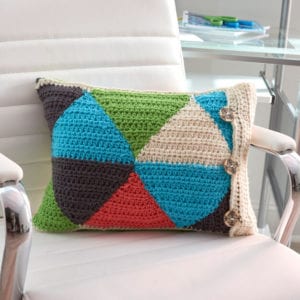 The name alone for this pattern had me intrigued so of course, I had to check it out. This easy Crochet Triangle Puzzle Pillow Pattern is a fun pillow cover if you're looking to add a fun pop of colour,
I love having throw pillows but sometimes get bored with them after a while, and I often have a hard time settling on new cases either it's not the right sizes for the ones I have or the colour isn't the right shade for the room I want it in. Making my own is the best option, I get the colour I want in the size I need in patterns I love!
This Crochet Triangle Puzzle Pillow PAttern was designed by Cassandra Bibler using Red Heart Super Saver so many fun colour options… and right now more than enough time to do them!


Crochet Vibrant Granny Triangles Throw Pattern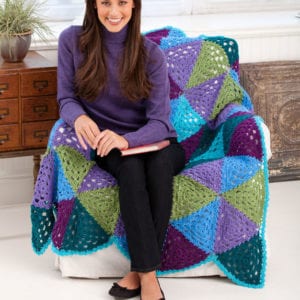 One of my favourite things to do is the Granny Stitch pattern and the Modern Granny, so this Crochet Vibrant Granny Triangles Throw Pattern makes me very happy. A super fun spin on the square granny with this triangle throw. It's taking everything in me not to go frog an afghan I've been working on to make this instead. I have another afghan I have been working on there is a good chance I may try to find a way to incorporate this into it if I don't end up frogging the other.
This very lovely Crochet Vibrant Granny Triangle Throw Pattern was designed by Katherine Eng using Red Heart Super Saver. This is also a great pattern to use up some of those yarn ends that you likely have collected lately.


Granny Triangle Patchwork Crochet Blanket Pattern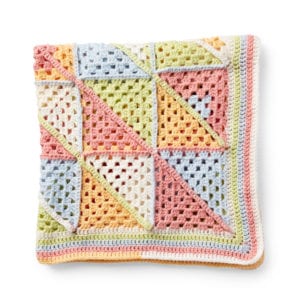 Unlike the Vibrant Granny Triangles Throw that uses triangles to make up the blanket, this Granny Triangle Patchwork Crochet Blanket Pattern uses the triangle to make squares that make up the blanket. One great shape two different beautiful blanket patterns.
This Granny Triangle Patchwork Crochet Blanket Pattern is another great project to use up some of that yarn stash or some of those yarn ends. Another great one to make into a supriseghan, put your part balls into a bag don't look grab one for each section of the squares, a fun way to pass the time, not stress about colour choices, and use up those bits to make room for new yarn. The Bonus is you end up with a fun blanket when you are done!


Radiating Triangles Crochet Cowl Pattern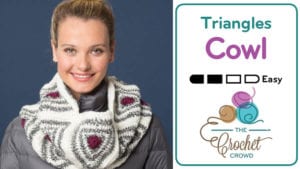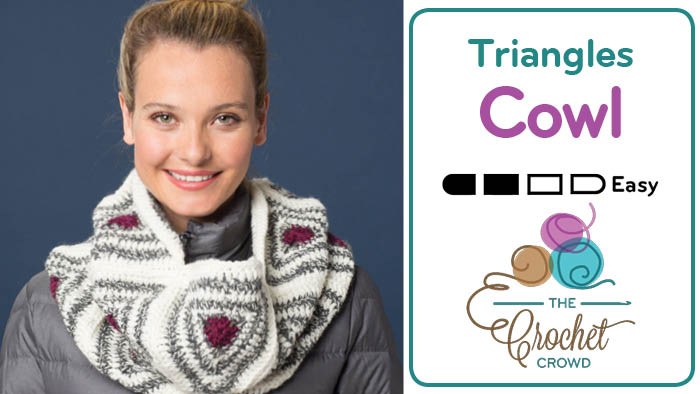 Are you tired of being square? How about being a triangle instead. This Crochet Triangles Cowl is made up of triangle motifs that are sewn together.
This easy Radiating Triangles Crochet Cowl pattern has a crochet diagram included in the pattern for the crochet triangles themselves as well as an assembly diagram to make your life easier.
Designed by Emily Berney made using Patons Classic Wool Worsted, but you could easily do this using the Red Heart Super Saver or any worsted weight you have on hand.


Triangle Crochet Pillow Wrap Pattern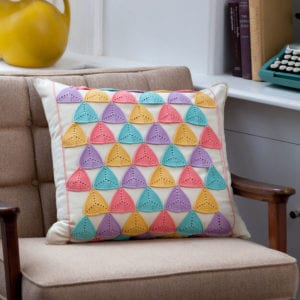 A fun and unique way to jazz up your throw pillows, in a style that I haven't seen before but it looks pretty neat. This Triangle Crochet Pillow Wrap Pattern, unlike the usual pillow cover, is just the triangle held together at the tips. It's a great way to change the look of a solid coloured pillow with simple triangles in a pretty way.
This Triangle Pillow Wrap was designed by Tracie Barrett using the Aunt Lydia's Classic Crochet Thread giving it that dainty soft and very pretty look. You could likely try this pattern in a worsted weight you would have to adjust your hook especially if you are a tight crocheter, it would mean you would likely need to do fewer triangles to fit the pillow you would like to put this on. I want to play with some of the yarn bits I have to make this. This Pillow Wrap would match the Vibrant Granny Triangles Throw nicely.


More Project Ideas