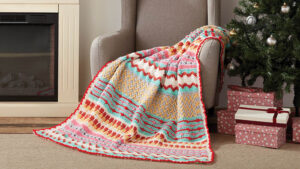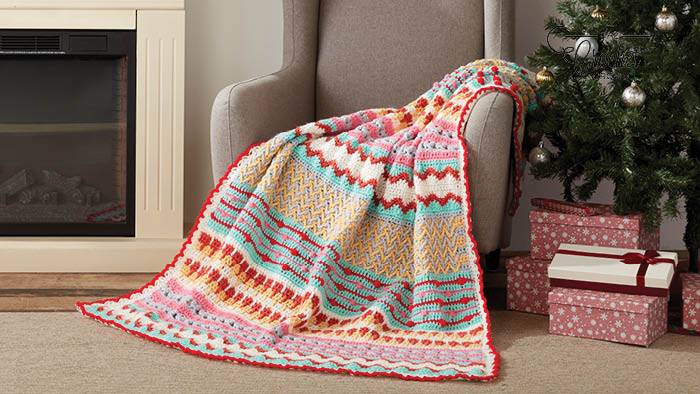 Crochet Happy Holiday Throw
It's cheerful and educational all wrapped up in one afghan. It's giftable and would be an awesome stash busting free pattern. For colouring, Diva Dan selected neutral blue combination from my own yarn collection using Caron Simply Soft. See my notes below about switching to this yarn. This is the Crochet Happy Holiday Throw.
This pattern calls for 7 colours of Red Heart Super Saver. I am assigning Diva Dan's selections to each colour of my own version to stay on track.
You can follow along or speed ahead. The full pattern is available.


After Filming Suggestion for Section 4 - Bobbles
Dc Clusters naturally pop out to the opposite side of the work. In the written instructions, it's telling us to do this stitch on the right side of the afghan. Meaning, the popping out will naturally fall to the back of the afghan. I am recommending the following:
Fasten off in Week 3 completely. 

Then start Week 4 on the Wrong Side (WS) and continue the pattern as written for the entire section. This will make all DC Cluster Rows pop out to the front of the afghan.

At the end of this section, I would recommend fastening off. Then starting Part 5 on the Right Side as it suggests and continue as written. 
Learning Opportunities
I have decided to make this a pop-up stitch along with the concept. I cannot quickly film this and need time in between sections. I decided to break this afghan up into 6 parts.
Ripple Pattern
Cluster Shell Pattern
Larksfoot Pattern
Bobble Stripes Pattern
Zig-Zag Pattern
Final Border
The afghan has a significant repeat. If you look carefully at it.
It's rows 1 - 63.
Then repeat rows 2 - 63.
Then repeat rows 2 - 12.
Border
Video Goals
To do each section to get you to the repeat of ending at row 63. Then you will follow the written instructions and repeat back by revisiting the videos, if required, to do the sections all over again. Each section will be its own video.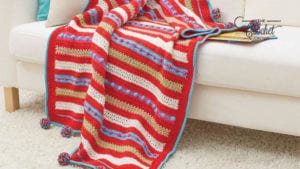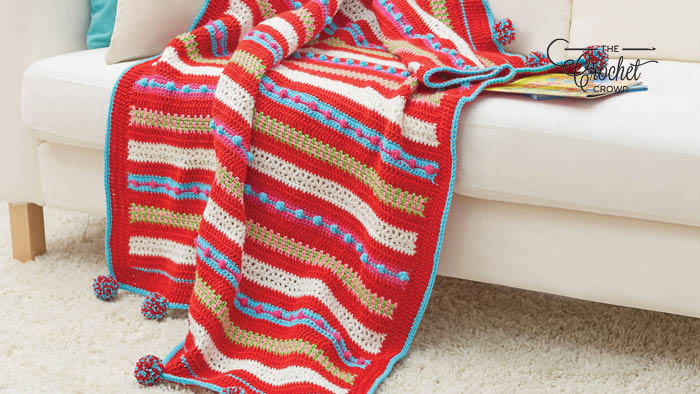 Restrictions
Due to this being a stitch sampler and through past experiences, I am not going to figure out how to change the sizing. Each stitch combination is a different stitch multiple which makes it difficult, sometimes unrealistic multiple stitch count numbers. We did a stitch sampler. The Christmas Morning Throw is an example of a stitch sampler we have done where the stitch multiples were not possible to repeat across to slightly change the size. Stitch samplers, especially when fabulous, can be like that.


Mikey's Colours
I decided to look at my stash and pull some yarn. Truth is, Daniel is our colour guy and he selected it. I will need to change the hook size to 5 mm / H for my version which will decrease the size of the blanket. I don't know how much yarn I will actually go through by changing out the yarn.
Contrast A - Off White
Contrast B - Soft Green
Contrast C - Country Blue
Contrast D - Dark Country Blue
Contrast E - Grey Heather Tweed
Contrast F - Off White Tweed
Contrast G - Charcoal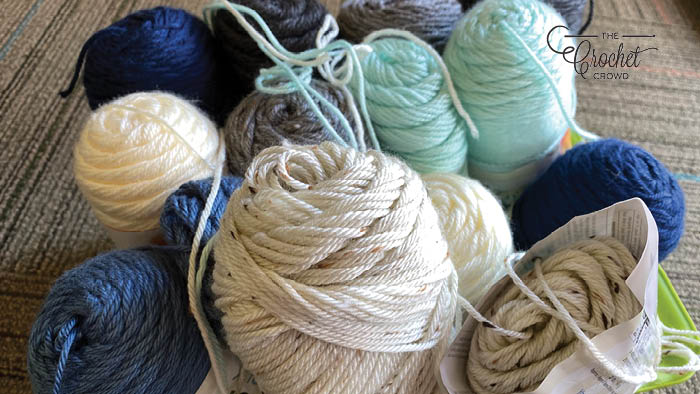 Tutorial Sample
Due to time constraints, I taught the repeating for each pattern section. The videos give the demonstrations, which includes the border. I wish I had free time to complete this entire blanket. It is really nice.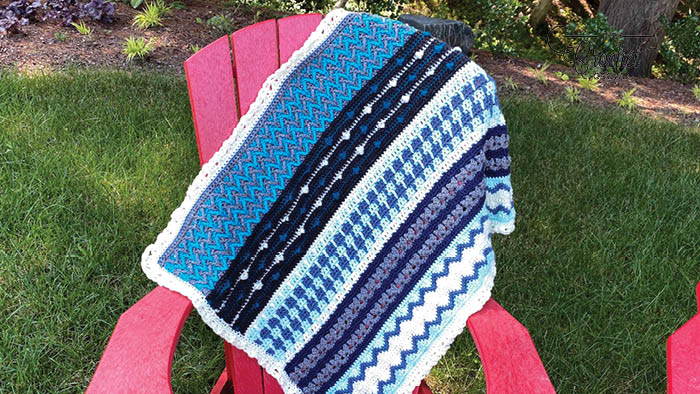 More Ideas
Tutorials
Part 1 - Ripple Pattern
Part 2 - Cluster Shells Pattern
Part 3 - Larksfoot Pattern
Part 4 - Bobble Stripes Pattern
Part 5 - Zig Zag Pattern
Final - Border
More Stitch Alongs