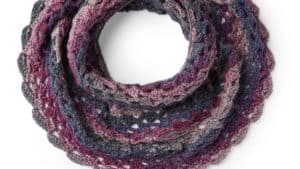 The Crochet Off The Shoulder Cowl is generous in size. Amazing stitch concept with easy repeating.
To change the size of this pattern, the multiples are in sets of chain 4. The stitches naturally lean in one direction in one round and then lean in the other direction for the next round. Together, the flow is spectacular.
You can wrap this twice around your neck or leave it open up to have it off the shoulder.
More Ideas

Tutorial
More Cowl Patterns