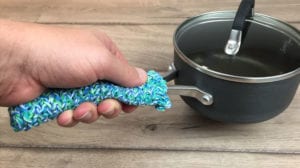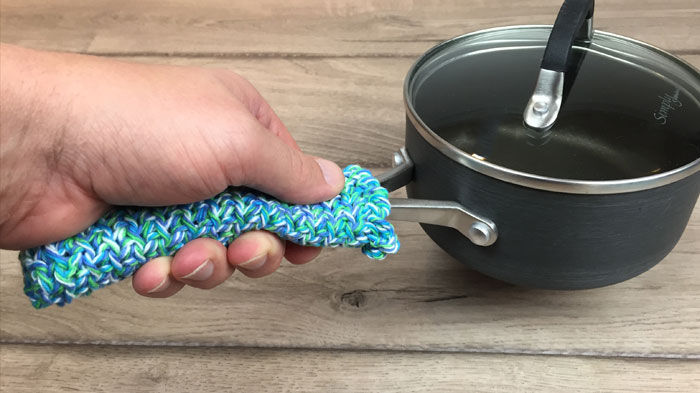 Pot Handle Cover
Introducing a slip-on crochet pot handle cover that can be used to remove or hold pots while making your favourite dish in the kitchen.
This concept is really simple in making a crochet tube that is closed off on one end and has an opening on the other. To use this, simply insert the pot handle in the open end of the tube and slide the tube down.
Made from cotton, by sliding it onto the handle to move the pot, it shields the heat from the handle from your hands with the pot cover.
Of course, with anything stove related, be conscientious and use common sense. If inserting your pot into the oven, be sure to remove the cover from the pot. Do not leave the cover on for extended periods of time. It's simply meant to slip on and off as you use it. I recommend you don't add any embellishments that will get too close to the pot itself or dangle above a burner. If your pot handle is shorter, just measure your pot handle and adjust the tube accordingly.


DO NOT USE ACRYLIC YARNS as a substitute. Cotton has benefits that can withstand heat and have properties in the natural product to be used in this application as well as other areas such as dishwashing and tea towels and more.
Pattern Suggestions
Materials
5 mm or Size H Crochet Hook
1 Ball of Lily Sugar'n Cream Cotton Yarn
Darning Needle To Weave In Ends
Instructions
Ch 6
Sc 2nd chain from the hook 3 times. Sc next 3 chains, 3 sc in final chain. Rotate and work on the bottom side of the chain 1 sc in the next 3 chains. Do not join with a slip stitch to finish off round.
Sc in the back loop only each stitch around. Continue to go around and round to make a 5" tube.
When 5" is complete, slip stitch into next 2 sts. Ch 1, reverse single crochet once around. Fasten off and weave in ends.
If you need a reminder on how to do Reverse Single Crochet. It's doing single crochet backwards to create a unique edge. It's also known as the crab stitch.
Crochet Kitchen Pattern Ideas