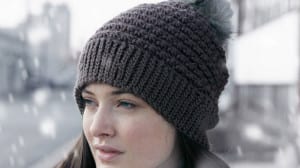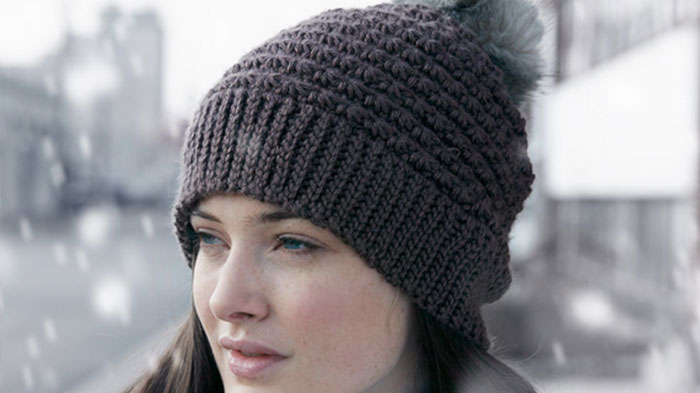 This amazing hat features the Star Cluster Stitch. This stitch is extremely popular and now you have this same stitch in a hat.
The Star Cluster Stitch is slightly different than a traditional star stitch. We have an article with a free tutorial showing the Traditional Star Stitch. View that article and tutorial here.


What is different about this hat is the single crochet row that is every other row in the star stitching area doesn't go to the centre of the stitch. In the pattern and in my tutorial, you will see the difference.
The brim is made up of slip stitch rows. It took me about 1.5 hours to make the ribbed brim. The slip stitching provides incredible elasticity and gives the look of knitting but with the luxury of using your crochet hook instead.
Tip
Brims made up of slip stitching can be fussy when premium acrylic is used. Premium acrylic is used in the Caron Simply Soft that is required by the pattern. When the acrylic is premium, meaning better quality, the plies don't stick together like they do when the acrylic is value or economy based.
Value acrylic cannot be lied or have the surface finishes of premium acrylic. So there is a definite difference in look and feel.
For my hat, I switched to Bernat Super Value instead of using Caron Simply Soft. I followed the pattern exactly but switched my brand to keep the plies together for tutorial purposes in teaching. You can make a decision on your own which you prefer or have access to.
Decreasing the Hat
I was intimidated by this pattern as it looked a lot more complicated than it was. I pre-judged the hat and shouldn't have. The decrease was far simpler than I had expected.
The decrease only happens in every other round which doesn't affect the star clusters. As you decrease stitches in the single crochet rounds when doing the star cluster in the next row, there are simply fewer stitches to work with and the star clusters line up perfectly.
The video tutorial shows you how to do everything. I realize not everyone likes Pom Poms. You are the artist, you can make the hat look like whatever you feel. Good luck.
Video Tutorial
Try my Rainbow Beanie Brim Hat.
Pattern Suggestions
More Crochet Hat Pattern Ideas