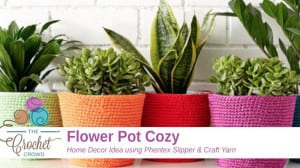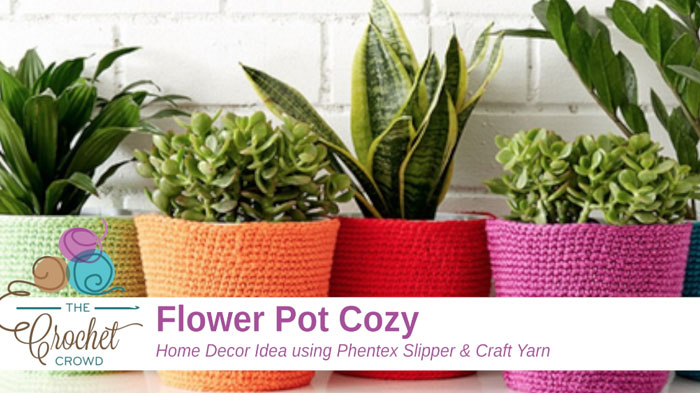 Flower Pot Cozy
Crochet yourself a Flower Pot Cozy using the inexpensive Phentex Slipper & Craft Yarn by Yarnspirations.
Phentex is North America's leading brand for slipper yarns on the market place. Canadians made and under the Yarnspirations Branding of yarns such as Bernat, Caron, Lily and Patons Yarns.
Phentex Yarn is 100% Olefin. What is Olefin? Olefin is a synthetic or polypropylene material. You would see this type of material used in wallpaper, carpeting, ropes, vehicle interior and more. It's resistant to colour fading, staining, mildew, abrasion and sunlight. This material is built to last. It would make sense because using acrylic yarns for slippers, the material would fall apart, snag and distort. Phentex does not shrink and holds it's shaping. It's meant for walking.
Question is… Why use this yarn on a pot? Well seeing the advantages above, you wouldn't want acrylic or animal-based fibres to get wet when watering your plants. Those types of materials would hold onto the water and long term use, mildew could start to form. Phentex doesn't hang onto the water as it just passes on through.
This tutorial is really easy as the pattern that is written teaches you how to crochet a circle, determine your diameter. Once you are satisfied with the diameter, you back loop for one rotation and then begin your sides. In my tutorial, I show you how to skip from doing slip stitching so you don't end up with a seam line.


Pattern Suggestions
Tutorial
Crochet Basket Pattern Ideas