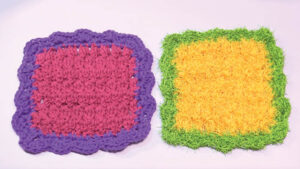 The Crochet Scalloped Edge Dishcloth is for Red Heart Scrubby but I demonstrated it with Lily Sugar'n Cream too.
This is the first time I have ever used Red Heart Scrubby yarn and I am so excited. I didn't realize how fun it was to work with. Because I am don't crochet with a firm grip, I thought the yarn would be harder across my yarn feeding hand than it was. I was pleasantly surprised.
Knowing that demonstrating with novelty-based yarns with extra bits and pieces that hang off the core of a yarn strand, it's tough to demonstrate to see the stitches. So I demonstrated in the tutorial below using both of the yarns. See the video chapters in the video description. I figured I would get complaints if I only demonstrate with Red Heart Scrubby. I used Lily Sugar'n Cream for the second run-through to cover the wishes of crocheters.
More Ideas

Tutorial
More Dishcloth Patterns