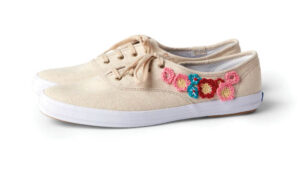 Call me silly but I love things like this. Accessorize your shoes with your hobby and be trendy too. Crochet Shoe Flowers.
Shoes are one of the only things where they can last as my feet have grown to their max.
The pattern says to sew them on but I think for me, let me get out my waterproof Gorilla Glue. Sewing through canvas may be a bit tough and I'll admit it, I'm lazy!
More Ideas

Tutorial
Not at this time.
More Crochet Slipper Patterns